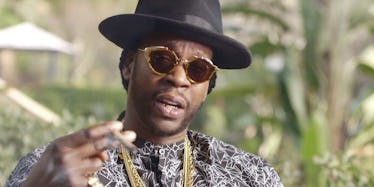 2 Chainz Rolls The Most Expensive Blunt Ever With 24-Karat Gold Papers
It comes as no surprise 2 Chainz has a distinct taste for some of the world's "most expensivest shit."
We all remember him eating a $295 burger and using a diamond toothpick afterward, but what about the munchies that brought him there?
In the new season of GQ's "Most Expensivest Shit," host 2 Chainz smokes the world's most luxurious joint. It features 24K gold rolling papers and bud that costs $800 per ounce.
An amazing feat indeed, but hands down, the most impressive part of the video is that massive bowl packed with an ounce of loud.
I'm sure you have a million questions about that piece, and so do I! Don't worry, 2 Chainz made a separate video for that, too.