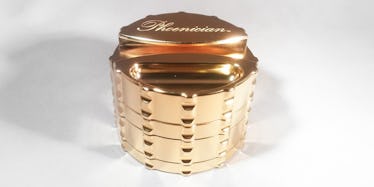 This 24K Gold-Plated Grinder Is Only For The Most Luxurious Stoner (Photos)
Looking to upgrade your collection of bizarre marijuana accessories?
It wasn't too long ago that we first introduced you to rolling papers made out of real gold. If you thought that was awesome, feast your eyes on this 24K gold-plated grinder. It's called the Gold Elite Phoenician.
Manufactured by Phoenician Engineering right here in the United States, this thread-less, magnetic grinder never locks up. It also features a unique exterior lobe gripping design which allows you to explore multiple grip options.
At first sight, it looks like a nice big block of gold - and it is - but a true stoner will be happy to know that this lavish contraption doubles as a grinder, an ashtray and even features a compartment used to stash away rolling papers.
The Gold Elite Phoenician four-piece grinder will transform your average cannabis connoisseur into the Dan Bilzerian of "the cyph." Priced at a cool $1,495, this must-have solidifies itself as the Bugatti Veyron of grinders.
What else would you expect from a grinder with real, 24K gold plated over 6061 aerospace aluminum?!
So, what are you waiting for? Upgrade yourself.
Behold, the Gold Elite Phoenicia, a 24-karat gold-plated grinder:
Priced at $1,495, this four-piece grinder, designed by Phoenician Engineering here in the United States, is fit for royalty:
It also doubles as an ashtray and a place to stash away your rolling papers. In other words, it's every true cannabis connoisseur's best friend!