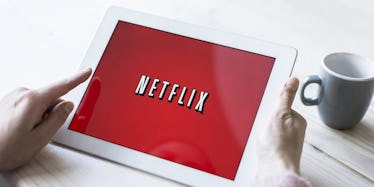 10 Genius Tricks That Will Totally Change How You Binge-Watch Netflix
Shutterstock
I tend to think of Netflix as both a blessing and a curse.
Netflix provides you with a seemingly endless arsenal of entertainment right at your fingertips.
However, watching shows on Netflix is kind of like eating potato chips -- it's basically impossible to stop after just one.
Once you decide to go down that dark path and hit the play button, you're pretty much guaranteed to spend the next seven hours of your life watching "Orange Is the New Black."
So, if you're going to waste your entire weekend watching Netflix, you might as well do it the right way.
In order to help you upgrade your streaming experience, we put together a list of Netflix tips and tricks that will help you binge-watch your beloved movies and television shows like a damn boss.
Seriously, this is just one more excuse to never leave your couch again.
Take a look at the pictures below to see how you can step up your Netflix game.
1. Use Netflix enhancers.
If you're looking to upgrade your movie browsing experience, you should definitely take advantage of Netflix enhancers.
This free Chrome extension, NEnhancer, comes with a lot of useful features such as pop-up Rotten Tomatoes ratings, IMDb profiles and movie trailers.
2. Use an unblocker to expand your horizons.
The selection of available movies and shows on Netflix actually varies from country to country. To get around this, you need an unblocker. You can use a free one like Smartflix or opt for a paid service like Media Hint, granting you access to global Netflix options.
3. Use codes to get more genres.
Including special search codes in the URL will allow you to browse sub-genres that don't appear on the home screen.
First, find the code you want on whatsonnetflix.com. Then enter the URL "www.netflix.com/browse/genre/" followed by the specific search code, and you'll be able to browse through everything from "Steamy Thrillers" to "Disney Movies" and "Independent Comedies."
4. Play Flix Roulette.
If you have a hard time making a decision on what to watch, you can just rely on Flix Roulette to do all the hard work for you.
Simply type in an actor, genre or keyword, then sit back and see what it gives you.
5. When in doubt, ask Reddit what to watch.
If you're sick and tired of sifting through the sea of sh*tty films on Netflix, you can just ask the Reddit community what to watch.
Yep, there's an entire subreddit, NetflixBestOf, that ranks the best movies and TV shows.
6. Stream in HD.
If you're looking to watch your shows in HD, go to the "Your Account" tab, then go to your playback settings and set your data usage to high.
Also, it's better to ditch Google Chrome and binge-watch your favorite shows using Safari, Internet Explorer or Microsoft Edge since these browsers all stream in 1080p high definition.
7. Fix streaming issues with the hidden menu.
There is nothing more annoying than having your movie interrupted by buffering. Luckily, there is a hidden menu that can put an end to your streaming struggles.
If you're playing a movie on your computer, simply hold down Shift+Alt (Shift+Opt if you use a Mac), and left click to unveil the "Stream Manager" pulldown menu.
8. Use Rabbit to watch movies with other people.
If can be kind of hard to Netflix and Chill with someone when he or she is halfway across the world.
Unless, of course, you happen to be simultaneously watching the same movie in real time using Rabbit.
If you're not familiar with this video chatting service, Rabbit lets you open a window that can be viewed by everyone in the chat. So, all you have to do is stream your movie in one window and use another window to chat with bae.
9. Keep your data usage under control.
If you're streaming on a device, your Netflix habit can eat up a lot of your data plan.
However, you can change your usage rate by going to Your Account, My Profile, Playback Settings and then choosing from auto, low, medium or high data usage.
10. Hide your recent activity.
If you're still using your ex's Netflix password, nothing will blow your cover faster than "Pretty Little Liars" appearing in his recent history.
However, there's actually a way to hide this. Go to Netflix.com/WiViewingActivity to pull up a chronological list of all the shows you watched. Then, simply click the "X" to the right of each title you want to remove.