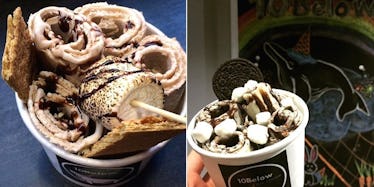 You Have Got To Try This Rolled Ice Cream Treat Before Summer Ends (Photos)
Instagram
There's nothing better than cooling off on a hot day with some delicious ice cream.
However, your favorite frosty treat is about to get even better thanks to one ice cream shop in NYC.
10Below Ice Cream just gave your beloved summertime snack a serious makeover by swapping out scoops for rolls.
That's right, rolled ice cream is actually a real thing, and it looks absolutely divine.
Now you're probably wondering, how in the world do you roll ice cream?
Well, the shop simply pours liquid ice cream onto a metal plate and mixes in additional toppings like fruit or Oreos as it begins to solidify.
Then, once the mixture is frozen, it's scraped off the surface into delectable little rolls of ice cream.
These bad boys come in all sorts of amazing flavors ranging from S'Mores Galore to Matcha Made in Heaven, so there's a mouthwatering flavor that will make everyone scream for ice cream.
Forget those old scoops of ice cream.
Rolled ice cream is all the rage.
This sweet treat has been popular in Thailand for quite some time...
...but thanks to 10Below Ice Cream, you can get rolled ice cream right in NYC.
To make this delectable treat, liquid ice cream is poured on a metal plate, and the desired mix-ins are added as the ice cream begins to cool.
Once the mixture is frozen, a metal scraper rolls it into a delicious treat that almost look too pretty to eat.
You can get this cool confection in a bunch of different flavors with playful names like...
Strawberry Shawty...
S'mores Galore...
Matcha Made In Heaven...
Cookie Monster...
Peanut Butter And Jealous...
Monkey Business...
Mo Money Mo Mangos...
Honey Boo Boo...
...and good old fashion Key Lime Pie.
Once you try some of these rolls, you'll never settle for normal ice cream ever again.
Citations: Behold Rolled Ice Cream The Most Instagrammable Way To Treat Yourself (Metro)