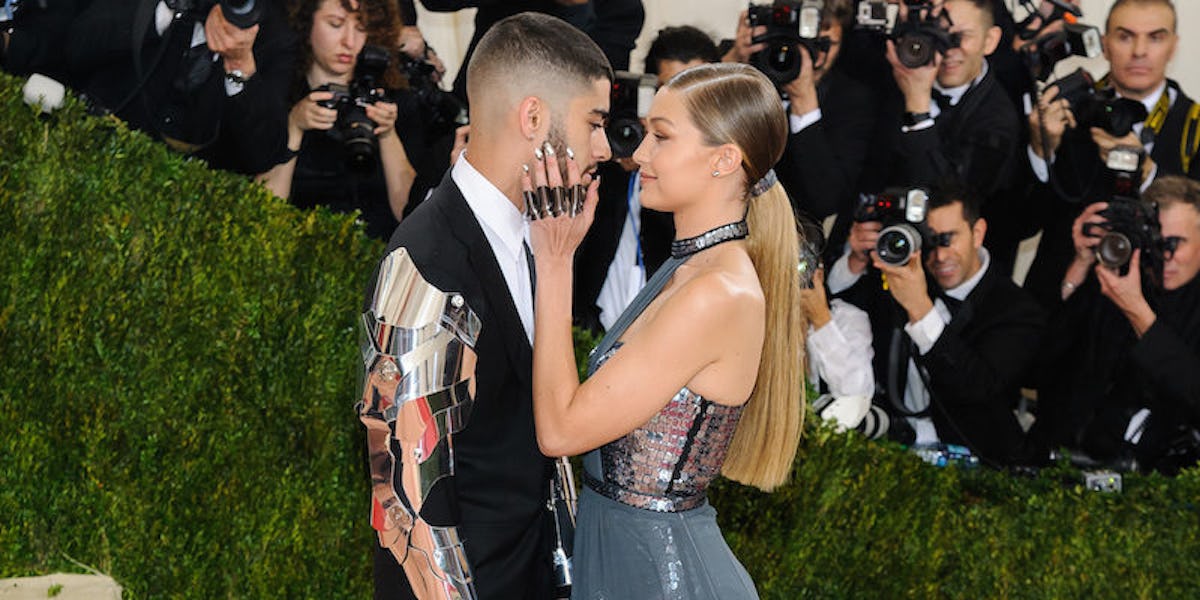 Zayn Just Proved He's The Best Boyfriend Ever By Doing This For Gigi Hadid
Shutterstock
We've all been critical of Zayn Malik in the past, but I, for one, can confidently say if he cooked me chicken curry and fresh naan, I'd be willing to let all my previous notions of him fly right out the damn window (but someone else has to open the window because there's food all over my hands/face/insides/outsides).
Gigi Hadid recently shared a pic on Snapchat of a balanced meal, presumably prepared by her boyf, Zayn.
The Sports Illustrated swimsuit model captioned the photo, "When you find one that can cook  [heart eyes emoji]."
Since finding out their beloved former One Direction member can balance being an amazing chef AND an amazing singer, AND amazing at pulling off improbably attractive haircuts, fans are tweeting about his sexy culinary skills.
YO YO YO DID MY BIG ZADDY ZAYN COOK GIGI A HELLA BOMB AF LOOKING DINNER? BC IF SO, HE IS THE SWEETEST BEAN pic.twitter.com/ZhLhOEkdve — amber (@ZlessedByZaddy) May 30, 2016
Did zayn cook desi food for gigi... looks so fucking good I'm hungry now — فريحة (@zaynandchocolat) May 30, 2016
zayn's out here making chicken curry for gigi which BTW means he knows how to marinate, cook, & ALSO make naan. wallah my son is a GROWN . — adam (@thotofmind) May 30, 2016
DID ZAYN COOK CHICKEN KA SAALAN FOR GIGI??? ALL THE WAY DOWN TO THE CUCUMBERS YOGURT AND ONIONS IM SO EMO pic.twitter.com/FQAv0RfadN — xain. (@zainabspeakss) May 30, 2016
Remember, boys and girls, don't settle for substitutes. Hold out for a charming pop star with long, beautiful eyelashes and a masterful understanding of how to braise chicken. That's happiness.