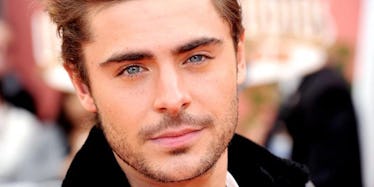 Zac Efron's Mom Gave Him A Hilarious Penis-Themed Christmas Gift (Photo)
Getty Images
Moms always give the craziest gifts for the holidays, don't they?
From socks to underwear to maybe (if you're lucky) some pajamas, moms really know how to make the holidays WILD.
Of course, I'm totally kidding here (did ya get my sarcasm?). Gifts from Mom are usually the gifts you open quickly and hide before any of your friends can see. That's just tradition at this point.
Well, it looks like Zac Efron's mom is just a little different from the rest of them. This Christmas, she decided to take the NSFW route and bless her son with a gift that contained more penises than I can count. And he LOVED it.
Yeah, check it out. On Christmas morning, Zac Efron woke up to the gift of PENIS PASTA. Adorable, isn't it?
The caption reads,
You know your mom's on point when she puts this in your stocking.
That's funny, because if my mom put this in my stocking, I would assume she wasn't wearing her glasses at the supermarket and thought the box read "Penne."
Oh, moms: You can't live with them, and you can't live without them.
Merry Christmas, ya filthy animals. I hope your holiday season was filled with as many D's as Zac's new pasta. I know mine wasn't (someone, call me).
Citations: Zac Efron's Mom's Christmas Gift (Cosmopolitan)