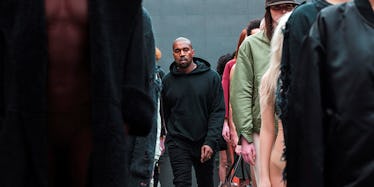 These Insane Yeezys Are Officially The Most Expensive Sneakers On The Internet
REUTERS
It's official: Yeezy finally jumped over Jumpman. That is, in one category, at least.
Kanye's Adidas Yeezy 750 Boost "Glow" is currently the most valuable sneaker on the resell market. That much is clear after the glow-in-the-dark model of Kanye's famous shoe topped the charts in a study conducted by HighSnobiety, a fashion and lifestyle sight, and the "sneakerhead data wizards" of StockX.
The joint project evaluated sneaker prices for the second quarter of 2016 (between April and June). The 750 Boost "Glow" came in high at a resell average of $1,471, which is four times the original retail price of $350, with the Trophy Room White Air Jordan 23s finishing a distance second at $1,236.
This handy graphic shows the rest of the top 10 sneakers being resold today.
And it's impossible to talk about this without thinking of Kanye's lyrics in his track "Facts," which read,
Yeezy, Yeezy, Yeezy, they line up for days Nike out here bad, they can't give shit away I stuck to my roots, I'm like Jimmy Fallon I ain't dropped the album but the shoes went platinum (Woo!)
Still, Jumpman continues its reign in overall dollars spent on sneakers in the resell market. The Jordan brand has two models that are attracting more money on the resell market than the third-best shoe in that regard, the 750 Boosts.
The bottomline, though, seems clear: People love Kanye's sneakers, and, well, he told us so.
Citations: The Most Expensive Sneakers of 2016 Q2 (HighSnobiety), At $1,471, Kanye West's Glow-in-the-Dark Yeezys are the Most Expensive Sneaker on eBay (Vanity Fair)