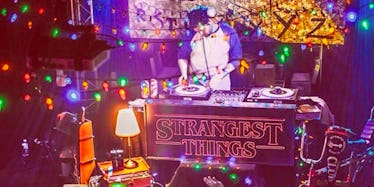 You Can Turn Your World Upside Down At A 'Stranger Things' Club Night
Instagram
Netflix is really murderin' the competition with all of these original series. It just gives me another reason to not own a TV in my apartment.
All I need in this world is my laptop, my ex-boyfriend's aunt's Netflix password and my obsessive personality!
First, it was "Orange Is the New Black," then it was "Making a Murderer" and now everyone is completely hooked on "Stranger Things."
The hit horror/sci-fi Netflix series is set in the '80s and tells the story of a small town, a missing boy, a casual alternative universe, a vicious monster from said universe and a sweet, misunderstood girl with incredible telepathic superpowers. Sounds like the perfect setting for a nightclub, right? Right.
A group in the United Kingdom called Strangest Things takes over different bars and venues, allowing people to transport to the '80s surrounded by "Stranger Things" decorations.
People are even dressing up for the themed nights (as if you weren't already jealous enough).
The series stars Winona Ryder as Joyce Byers, the mother of the missing boy, and David Harbour as Chief Jim Hopper, the police officer helping Joyce find her son, along with the extremely talented cast of kids.
This kind of thing is right up Winona's alley. She's known for her work in "Beetlejuice" and "Edward Scissorhands," but the reason I know and love Winona is her dark and snarky character Veronica in "Heathers," which actually came out in the '80s. EIGHTIES WERE LIT, BABY!
Actually my spirit animal, though.
So if you want to party like it's 1980 and you happen to be in the UK, you're definitely going to want to check out one of these parties.
IT'S EPIC... or would they say bangin'? I don't really know. I was born in 1994.
You can see if they will be taking over a nightclub in your area and buy tickets here on the Strangest Things Facebook page.
Citations: This 'Stranger Things' themed club night is taking Britain by storm (Mashable)