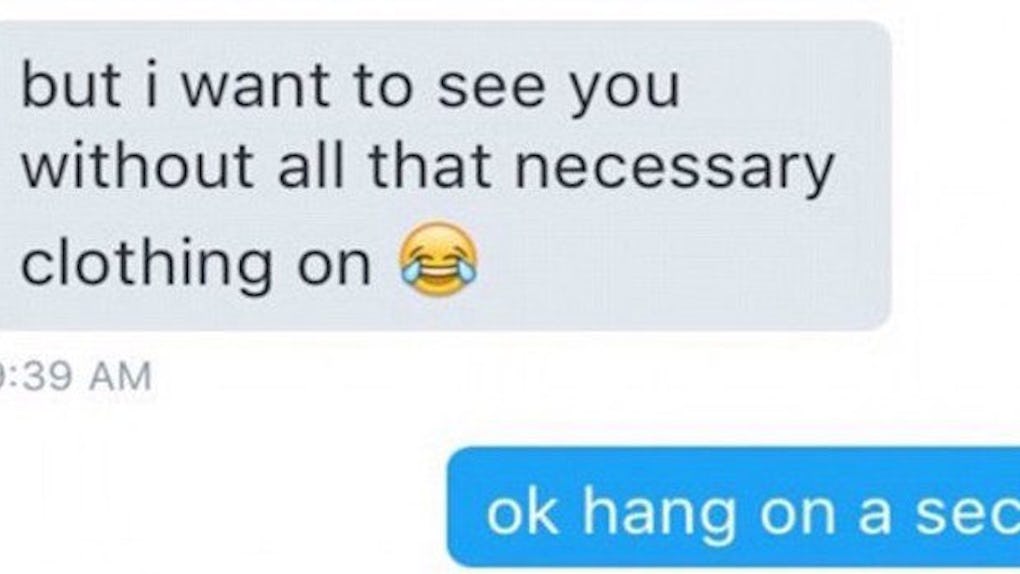 Daily Mail
Woman Pranks F*ckboy Who Wants Nudes In The Most Perfect Way
Forget repainting all your IKEA sh*t. This life hack blows the rest out of the water.
Twitter exploded when user Jwzayn found a hilarious and practical solution to prank a random f*ckboy asking for nude photos. "I want to see you without all that necessary clothing on," he texted her. Uh huh...
While I'm sure that line works on ladies all the time (insert eye roll), Jwzayn decided to pass. Instead of texting back an appropriate f*ck you, though, Jwzayn sent a photo of a grey screen with the loading icon.
I'VE BEEN SENDING HIM A PICTURE OF THE LOADING SIGN AND HE STILL HASNT REALISED LMAO pic.twitter.com/TiPGT3p3s8 — par (@jwzayn) January 6, 2016
This dude seriously thought the picture simply wasn't loading on his phone. As in, he couldn't think of a single other reason why women aren't clamoring to send him pics. Humanity, am I right?
Use the handy loading pic below for your own sexting needs and share it with your friends. It's the gift that keeps on giving.
Citations: Man's request to a woman for naked selfies backfires when she sends him a photo of a blank loading screen - but he fails to realise he's been pranked (Daily Mail)