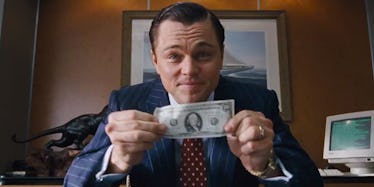 'The Wolf Of Wall Street' Is Facing Legal Trouble For The Most Ironic Reason
Paramount Pictures
All of the profits made by "The Wolf Of Wall Street" are in high demand, and by "high demand," I mean the government wants them back. Like, all of them.
A new US federal lawsuit is seeking to claim "any rights to profits, royalties and distribution proceeds" from the movie, CNN Money reports, as part of a much larger legal battle over funds stolen overseas.
The lawsuit from the US Government levies a serious accusation, alleging a group of individuals (including the stepson of Malaysia's prime minister) robbed the Malaysian people of $3.5 billion and then used that money to spend on condos, yachts and even a jet, CNN says.
The story is a bit complicated, but here's how the Department of Justice says things went down:
The money was allegedly stolen by people involved in 1Malaysia Development Berhad.
"1MDB" is a government-owned fund founded in 2009 that invests in projects worldwide (real estate, art, film, etc.) and then (as it claims) uses the profits from those investments to benefit the Malaysian people. However, the Malaysian people never saw this money.
One of those projects was apparently "The Wolf of Wall Street," which was already reported by The Wall Street Journal to have been funded under shady circumstances.
Basically, "The Wolf of Wall Street" was funded by a "Wolf of Wall Street"-like scheme. How appropriate.
Citations: CNN Money