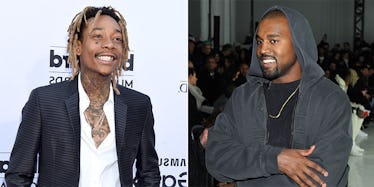 Wiz Khalifa Has The Final Word On The Kanye, Kim And Amber Rose Beef
Getty Images
IT'S DONE! *Releases ceremonial peace doves from the top of the GOOD music building.*
A week after Kanye West and Wiz Khalifa's VERY aggressive and VERY public Twitter feud, it seems like any bad blood between the two may be gone.
Gone like the days when Amber Rose would intimately fanger-pop Kanye's butthole (Sorry, 'Ye. None of us will forget this anytime soon).
Yesterday, Kanye tweeted the two had met to talk out their feelings and stuff.
Later that night, during an interview with Angie Martinez on Power 105.1, Wiz confirmed the meeting did in fact happen.
You've heard it from the man with the cool pants himself. It's over. Kanye and Wiz met, they hashed it out and -- at least in my mind -- hugged before Kanye gently whispered, "You know what to do," before trying to push Wiz's hands toward his butthole.
He also reassured us things are good between Kanye, Kim and Amber. Wiz told Martinez,
Her and Kim spoke and they're all good, too. They spoke and it's all good.
S'all good.
Citations: Wiz Khalifa Talks Kanye West Feud I Accept His Apology (Us Weekly)