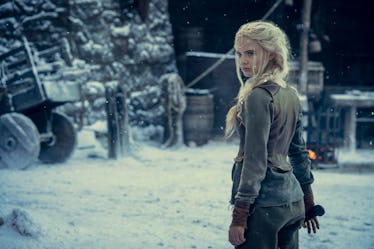 The Witcher's Season 2 Trailer Hands Ciri Her Sword
Netflix
Even before The Witcher became a massive hit at the end of 2019, Netflix had already greenlit a second season of it. But filming for the next installment was derailed by the filming shutdowns in March 2020, which is why, a full year later, principal photography finally wrapped up in early April 2020. Although the interruptions mean fans will have to wait a while still for the release, the details coming out about The Witcher Season 2 are sure to get everyone excited in the meantime.
The Witcher Season 1 was an interesting experiment in mixing different kinds of media into a single adaptation. The world of The Witcher started as short stories, then moved to full-length novels before being adapted into video games. Showrunner Lauren Schmidt Hissrich used all of these in creating the Continent for Netflix. Geralt's short stories and video game antics were utilized as "monster of the week" adventures, while on separate timelines, the series expanded Yennefer's backstory and Ciri's importance to the mythos.
Season 2 will be the more straightforward adaptation of the full-length novels. But while the story might be easier to follow, it also means an entirely new set of characters from the books will arrive soon.
The Witcher Season 1 is streaming now on Netflix.
This article was originally published on