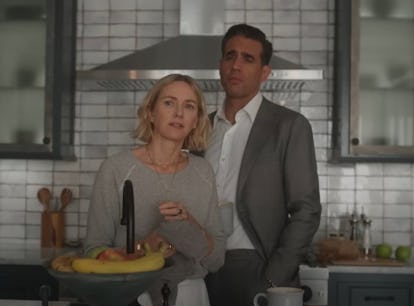 Let's Go Over All The Best Theories About Who The Watcher Really Is
There are so many suspects.
Netflix
Spoiler alert: This post contains spoilers from The Watcher's finale. The Watcher probably left you with a lot more questions than answers. The mystery thriller never revealed its eponymous stalker, likely because the real-life case that inspired it is still unsolved. Still, although the open-ended finale may be true to life, it's not exactly satisfying for viewers who were hoping to get some answers. So, if you're still mulling over the Watcher mystery, these theories about who the Watcher could be might help you come to some conclusions.
One of the main reasons The Watcher's mystery is so complicated is because there are so many suspects, and they are all shady as hell. Pretty much every new person the Brannocks meet seems to have some weird fascination with their new home, but some Westfield residents seem more likely to be the Watcher than others.
Of course, a large portion of the show — which is based on a November 2018 New York magazine article — was fictionalized, making the Netflix series perfect breeding ground for speculation, conversation, and — most importantly — fan theories. Let's break down all of the major suspects to see which theory is the most compelling.
The Watcher is now streaming on Netflix.