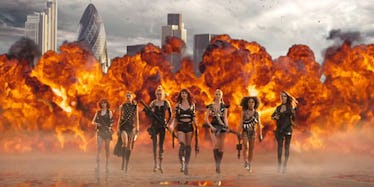 Astrology Says: Which Member Of T.Swift's Squad You Relate To Most
Hollywood is like a high school cafeteria, and there is no question that Taylor Swift and her squad sit at the "cool girls' table." Whether they're on stage for one of Swift's sold-out concerts or simply baking in her kitchen, I think it's safe to say we are all the outcasts here.
There are many members in Taylor's squad; in fact, the group seems to be getting larger every day and growing even more powerful. Many members were featured in the "Bad Blood" video, in which they had names like "Mother Chucker" and "Knockout," reminding everyone that the squad is no group to mess with.
It's safe to assume we all have a little squad envy. I mean, I thought gangs of girls this fierce only existed in books like "The Clique." When Swift Instagrams a picture of her fabulous friends, it's hard not to think, "Am I squad-worthy?"
Because we probably will never know the answer to that, let's all just pretend the answer is "yes." Now, it's time to determine which squad member to vicariously live through.
Here is the T.Swift squad member you would be, based on your astrological sign:
Aries: Cara Delevingne
Aries is the ram of the zodiac signs.
Full of energy and impulsivity, it's easy so see why Aries is the Cara Delevingne of the group. Astrology.com refers to Aries as the "pioneer of the zodiac" because of their strong energy and bold nature.
When one thinks of Cara Delevingne, it's very certain the words shy, meek or timid do not come to mind.
The model-actress hit Hollywood like a tornado. She's never been afraid to express herself, whether it's making a hilarious Dubsmash, or posing for Instagram in a monkey costume while eating a banana.
The element for Aries is fire, and that's something you and Delevingne can both relate to. You have a burning determination that is hard to deter, making you a strong competitor with inner confidence that could kill (which could be your potential weapon of choice in the "Bad Blood" video).
Taurus: Lily Aldridge
Reliable, warm-hearted and sensual can describe both the Taurus zodiac sign, as well as Lily Aldridge.
Known as "Frostbyte" in the "Bad Blood" video, we know Aldridge is anything but cold. Taurus women are known to be genuine and loyal, so it shouldn't be too surprising that the model is often spotted spending time with her family.
The Taurus sign is also known for being reliable, making Aldridge the perfect squad member.
Gemini: Selena Gomez
We all know there's two sides to Selena Gomez: She has the heartbroken, vulnerable, "The Heart Wants What it Wants" side, and the sexy, strong, "Good For You" side.
This is why Geminis are definitely the Selena of the squad. Twins represent this zodiac sign because, like Gomez, they have a dual personality.
This makes Geminis both complicated and magnificently intriguing. Astrology.com says this can cause them to be wishy-washy at times. And we know that to be true to Selena's past: No one can keep up with the status of her and on-again, off-again boyfriend Justin Bieber.
However, being an air sign, Geminis are extremely intellectual. Gomez has shown both her Gemini charm and intelligence as an ambassador of UNICEF.
Whether she's doing charity work or creating a new pop hit, Gomez is always showing off her versatility and adaptability.
Cancer: Martha Hunt
Cancers can easily identify with squad member Martha Hunt.
Known for her work with Victoria's Secret, the blonde bombshell is a perfect Cancer-like blend of sugar and spice. One minute, she's strutting her stuff down the VS runway, and the next minute, she's at charitable events like Design On A Dime.
This relates to Cancers perfectly because they are connected to the moon and go through similar phases.
Cancers are also very emotional and can hide in their shells, considering they are the sign of the crab. When Hunt is having her shell kind of days, she's working on her fitness, or playing with her pups.
Leo: Serayah
Full of creativity and energy, Leos definitely would be the Serayah of the squad.
Leos are very enthusiastic, and Serayah couldn't be more enthusiastic about her career, her friends, or just life in general.
"So when I went for the first time, I was just dying laughing. They're really screaming 'Serayah, over here!' I didn't know that they did that," Serayah told Elle about her first time on the red carpet.
An important aspect about being in the squad is being loyal, and that's something Leos (and Serayah) have proved to be.
Virgo: Hailee Steinfeld
Hailee Steinfeld, like the Virgo sign, has many dimensions.
While sometimes modest, both Steinfeld and Virgos can also be analytical and helpful. As Steinfeld has been acting for a large part of her life, she didn't get to experience the normal road to adolescence. Although she missed out on a few high school moments, she (like a Virgo) has reflected on it.
"I've experienced things I don't know you can necessarily get from reading a history book," she told The Independent. Because of their analytical nature and ability to problem-solve, Virgos make great friends.
According to The Independent, Steinfeld fit in with the "Pitch Perfect 2" cast so well that they still share a group text.
Libra: Karlie Kloss
A Libra is the perfect partner-in-crime for Taylor Swift.
Karlie Kloss and Libras both are fun and sociable. Libras enjoy being around other people because it gives them energy.
It's safe to say that's true for Kloss, considering she's quite often photographed hanging with Swift or taking selfies backstage with fellow models.
The bottom line is Libras are full of fun, while still being poised. Kloss demonstrates just that in her interview with Cosmopolitan, where she discusses what it's like being Swift's BFF.
Scorpio: Taylor Swift
Okay, Scorpios, we know you're excited. I mean, who wouldn't want to be the leader of the pack -- especially this one?
According to an article written by The Huffington Post, the most common zodiac sign amongst world leaders is Scorpio. However, that may not surprise you at all, considering your love for competition and your eagerness to win. Often, this determination for success benefits Scorpios.
At the 2015 Billboard Music Awards, Swift won eight different awards, including Top Artist. Talk about a world leader!
Scorpios are known for their passion (Have you seen the "Blank Space" video?!), and Swift has a passion not only for her career, but also for her fierce and fabulous squad.
Sagittarius: Lena Dunham
Honest with a spin of humor, the Sagittarius sign connects most accurately with Lena Dunham.
The actress and writer isn't afraid to make waves. Dunham's hit show, "Girls," as well as her book, "Not That Kind of Girl," demonstrate the Sagittarius traits of learning from life experiences and being honest about them along the way.
Those who fall under this sign know that being blunt sometimes has its repercussions, and Dunham can attest to that.
After referring to herself as a "sexual predator" in her book, she released a statement to Time Magazine saying, "First and foremost, I want to be very clear that I do not condone any kind of abuse, under any circumstances."
Capricorn: Ellie Goulding
"Work, work, work" is the Capricorn mindset, and that makes those born under the Capricorn stars the Ellie Goulding of the squad.
Since her debut album in 2009, the singer has spent the last six years climbing the charts and landing in the spotlight.
Capricorns know success isn't something that is handed to you, and Goulding has worked diligently over the last several years to be where she is today (nominated for Best Female Video at the 2015 MTV VMAs).
According to Astrology.com, Capricorns are "down-to-earth in the sense that they're not interested in wild ideas or round-the-world dreams." This could easily be said about Goulding.
The pop star showed her relatable, down-to-earth personality in an interview on "Alan Carr: Chatty Man" in 2014. Goulding humbly discussed singing at the Royal Wedding and bashfully admitted to having a boyfriend.
Capricorns, like Goulding, are often very reserved and composed. This makes them the "mom" of the group, a role every squad needs.
Aquarius: Lorde
Progressive, humanitarian and inventive are just a few ways to describe both the Aquarius zodiac sign and music superstar Lorde.
The singer is known for her creative take on the music industry and her revolutionary sound, making her a perfect fit as the Aquarius member of the squad.
Lorde also takes a different approach to pop lyrics. Instead of singing about the glitz and the glamour of Hollywood, she is honest, with lyrics such as, "I'm not proud of my address; in a torn-up town; no post code envy."
With songs like "Royals," one could argue Lorde is inventing a new kind of pop. Those who fall under the Aquarius sign fantasize about how to improve the world around them. Both Lorde and Aquarians strive to make a difference.
Pisces: Gigi Hadid
The sensitive and loving Pisces shouldn't find it hard to identify with Gigi Hadid (or anyone, for that matter, because of their deep ability to empathize).
The model has shown her kind and selfless soul throughout her time in the spotlight. In an interview with Harper's Bazaar, Hadid revealed her Pisces-like nature by saying, "I think friendships are a lot more valuable than one job."
This would be intuitive to a Pisces, being both compassionate and sensitive. Both Pisces and Hadid love to go with the flow (especially being a water sign).