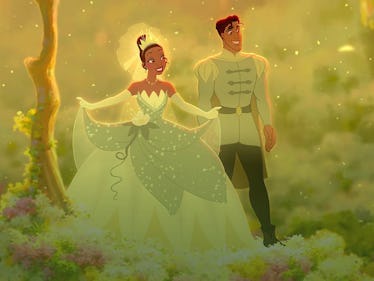 Watch These Movies Before They Leave Netflix In July
Walt Disney Studios
Netflix loves to advertise its new offerings that turn up every month. Multiple movies debut every week; there's somewhere on the order of 50+ TV shows that turn up every month. But to make room for the new, there's out with the old. As always, every month sees turnover on Netflix as old shows depart and films leave for other streaming services. So, what's leaving Netflix in July 2021? Let's run down the list.
The good news, as always, is that what leaves Netflix is the stuff the service doesn't own. As long as the project is a Netflix Original, it's safely there for life. What exits every month are the older titles, the ones owned by other companies. Much of the time, it's stuff bound for other streaming services that have been waiting out contracts with Netflix before shifting. The Princess and The Frog, for instance, is a Disney film that's been waiting to exit Netflix and join the rest of the Princess Pantheon on Disney+; it will leave in July. The Croods is also taking off and will most likely head to Disney+ (if not Hulu) shortly after that. And the cult hit Jupiter Ascending is also leaving at the end of the month and will soon be on HBO Max.
But not everything is headed to a new home. Grand Designs, for instance, is going out to wherever shows that have no streaming home go. Also, Love Sick: The Series, a Thai show popular with the K-drama crowd, is also leaving this month, with no known destination, so fans should make sure they've watched this adaptation of the Thai Boys Love novel before it's gone.
Here's the full last-call list of titles:
July 5
July 7
July 14
July 15
The Princess and the Frog
July 19
Love Sick: The Series: Season 1
July 22
Oh My Ghost
Oh My Ghost 2
Oh My Ghost 3
Oh My Ghost 4
July 28
July 30
July 31
A Clockwork Orange
Bride of Chucky
Child's Play 2
Child's Play 3
Eat Pray Love
Four Christmases
Freak Show
Fred Claus
Friends with Benefits
G.I. Joe: The Rise of Cobra
Grand Designs: Season 10
Grand Designs: Season 15
Hardcore Henry
Hinterland: Seasons 1-3
Hook
Horns
Jupiter Ascending
King Arthur
Little Baby Bum: Nursery Rhyme Friends: S1
The Little Rascals
Mad Max
My Best Friend's Wedding
Nacho Libre
Nights in Rodanthe
The Patriot
Remember Me
Seed of Chucky
Step Up: Revolution
Your Highness
Zombieland