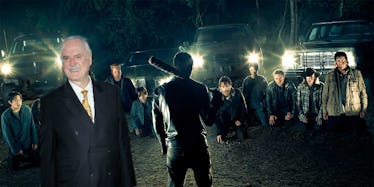 'The Walking Dead' Got Owned By John Cleese's Savage Synopsis
REX/Shutterstock/AMC
If it turns out living comedic legend John Cleese is truly (deeply) a "Walking Dead" fan, he should definitely do a sketch about the Ministry of Silly Walkers.
That just has to happen.
If you haven't caught up on "The Walking Dead" by now, I'd advise you to turn back now, head to a nearby mall or farm for shelter and wait until the inevitable zombiepacolypse occurs.
WARNING: THERE BE SPOILERS AHEAD.
In honor of the return of "The Walking Dead," John Cleese provided a brief, but savagely accurate breakdown of all six seasons that have preceded the upcoming one.
A couple incredible observations by the venerable comedian include the fact that no one calls zombies... well, zombies.
Were there no zombie movies in the universe of  "The Walking Dead?" Because if there was a zombie outbreak IRL, I think 80 percent of the population would know to shoot it in the head and avoid tripping, or separating, your group.
John also calls out Rick for being "essentially Clint Eastwood, but a bit more sensitive," Carol for being a horrible teacher and how...
LITERALLY EVERY "SAFE SPACE" THE GANG ENTERS ENDS UP BLOWING UP, BEING OVERRUN BY ZOMBIES, OR RUN BY CANNIBALS/MURDERERS.
This totally explains John's second "Walking Dead" rule:
There are no safe spaces.
John also gives Woodbury, which was run by the one-eyed, "Patchy Pete" Governor, a one-star review on TripAdvisor.
Of course, John finishes up the video asking us the question that's on all of our minds:
WHY DOES RICK CALL CARL 'CORRRRAL?'
JK! That's not what he asked. John finishes up the video, saying,
But who will survive Negan's bloody beating and incessant rhyming?
Who indeed, John!
Guess we'll all have to wait for Sunday (bloody Sunday) to find out, huh?
In the meantime, check out the hilarious, sassy video above and thank "The Walking Dead's" biggest fan John Cleese for his epic analysis of the show.
Also, John -- please read my "Undead Parrot" sketch.
Citations: JOHN CLEESE RECAPPING THE WALKING DEAD IS SIMPLY DELIGHTFUL (Nerdist)