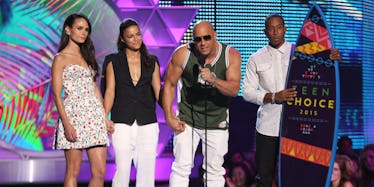 Vin Diesel Dedicated Award To Paul Walker's Daughter In Touching Speech
Though Vin Diesel has made his fortune in film, few would call upon him first to deliver a moving speech.
This changed Sunday night at the Teen Choice Awards when Diesel and his castmates from the "Fast and the Furious" franchise accepted the award for Choice Movie.
The gang, including Jordana Brewster, Michelle Rodriguez, Ludacris and Diesel himself, made their way to the stage to the fitting tune of Wiz Khalifa's "See You Again."
The action star spoke momentarily of the family the cast had become before he dedicated the award to the teenage daughter of his late costar, Paul Walker.
Diesel announced,
There is one teen in the audience that is a part of the family that kept us going. It's Paul Walker's family - his brothers, his parents - that kept us encouraged when we were filming Furious 7. There's one very, very, very special teen here and her name is Meadow Walker.
Diesel also took the time to tease that there would be an eighth "Furious" film, because this franchise will outlive us all.
Citations: Vin Diesel dedicates Teen Choice Award to Paul Walker's teenage daughter (Mashable)