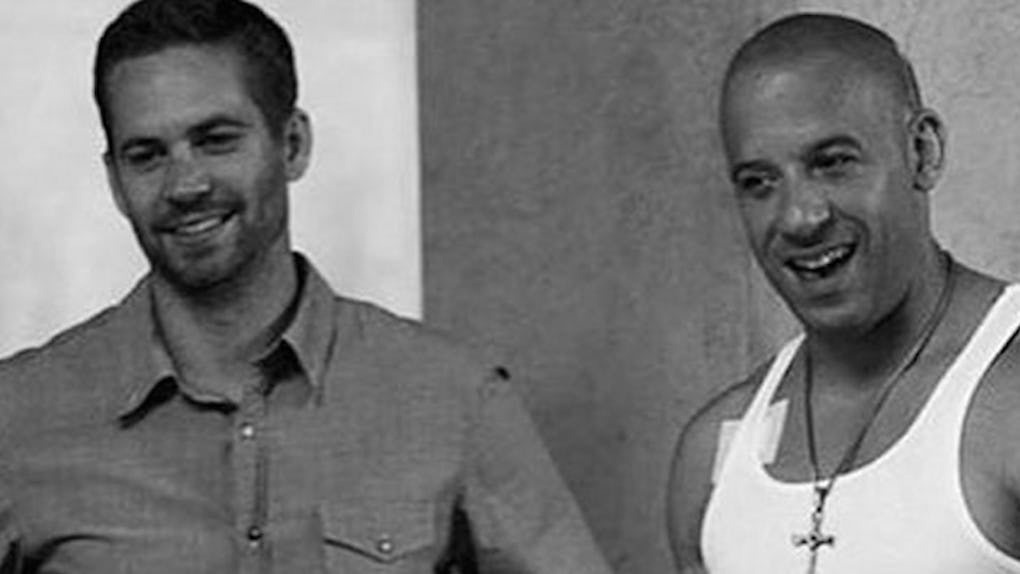 Instagram
Vin Diesel Sings Tribute To Paul Walker At The People's Choice Awards (Video)
Vin Diesel accepted two awards for "Furious 7" at the People's Choice Awards on Wednesday, including Favorite Movie and Favorite Action Movie.
As if the moment weren't epic enough for the franchise and Diesel as a producer, the 48-year-old actor closed his speech with a chilling tribute to late friend and "Furious" costar Paul Walker.
Paul stars in the latest installment of the "Fast and Furious" franchise, but was involved in a car accident during a break from filming that took his life on November 30, 2013. He was just 40 years old.
Vin Diesel accepted the Hollywood Blockbuster award at the Hollywood Film Awards for "Furious 7" back in November, a moment he also dedicated to Paul. He stood on stage with co-stars Michelle Rodriguez and Jordan Brewster, saying,
We made a film that made the whole world cry with us. It's impossible not to receive an award and not feel emotional... It is hard to celebrate Furious 7. I said I wasn't going to talk about Paul, but when you have had a brother like that it is impossible not to... Thank you for recognizing that angel. The world is a little lonelier without him. But I know he's looking down at us, and smiling, because all of you have acknowledged him. This is for you, Pablo.
Watch Vin's full speech from Wednesday's PCAs in the video below. Warning: Be prepared to cry.
Vin Diesel accepts the award for Favorite Movie and Favorite Action Movie for Furious 7. #PCAs https://t.co/s00lcjGdg2 — People's Choice (@peopleschoice) January 7, 2016
This isn't the first time Vin has taken to singing his feelings out while dealing with the loss of Paul.
Not to mention, he named his daughter, Paulina, after his longtime friend in March 2015.