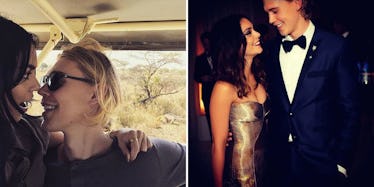 Vanessa Hudgens And Austin Butler Completely Dominate Couple Goals (Photos)
Instagram
Love is definitely in the Hollywood air.
From T-Swift and Calvin to Demi and Wilmer, lately there has been no shortage of celeb couples who give us all #RelationshipGoals.
However, we recently came across yet another famous couple, Vanessa Hudgens and Austin Butler... and I have to tell you, this couple may be the most adorable pair yet.
These two have been dominating couple goals since 2011, which is a pretty long time considering how fast relationships seem to come and go when you're in the spotlight.
This dynamic duo always finds a way to keep their love going strong despite the distance their careers have put between them. It's not hard to see  they're just as crazy about each other now as the day they first met.
Whether these two are looking flawless on the red carpet together, going on adventures, taking cute selfies or just telling the world how madly in love they are, Vanessa and Austin are clearly a match made in heaven.
Vanessa Hudgens and Austin Butler are one seriously perfect pair.
You can tell  these two are ridiculously in love simply by the way they look at each other.
Night time festivities with my handsome man for #SophieLyndon2015 #Africa #Vcation pic.twitter.com/7UdXMe1UGF — Vanessa Hudgens (@VanessaHudgens) August 1, 2015
These two go on all sorts of incredible adventures together, like road trips through the desert...
...vacations at Disney...
..and African safari rides through the Serengeti. However, they're usually too busy staring into each other's eyes to notice anything else around them, like a giant lion for example.
Vanessa has no problem telling the whole world how she feels about her man...
...and it's not hard to see Austin feels the same way.
Vanessa and Austin take adorable family photos...
...and post all sorts of pics on social media that will melt your heart.
These two look amazing together, and they can pull off any look from old school #OOTDs...
...and red carpet couture...
...to flawless vampire costumes that look so good, it's scary.
Vanessa and Austin are never afraid to show a little PDA...
...and their kisses look like something straight out of a rom-com.
No matter what, they always look adorable, whether they're dancing in the streets...
...checking out the nightlife...
...taking a quick cat nap...
...or slaying the style game in their sunnies.
They always know how to have a fun, whether they are hanging out with their friends...
...being the cutest couple at Coachella...
...playing with puppies at the VMAs ...
...or mastering the art of the perfect couple selfie.
Vanessa and Austin are always in sync with one another...
A couple that walks on the same foot together, stays together. HA pic.twitter.com/NTawAm4jLY — Vanessa Hudgens (@VanessaHudgens) June 26, 2015
...and these two are seriously the definition of #RelationshipGoals.
Arriving with my man on my side pic.twitter.com/bQR5E8WHt3 — Vanessa Hudgens (@VanessaHudgens) August 21, 2015