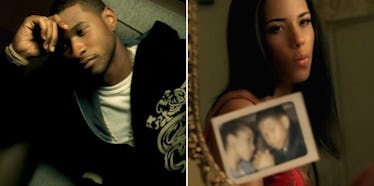 The Internet May Have Found The Girl Usher Sang About In 'My Boo'
YouTube
When it comes to the greatest love song of all time, there is literally no doubt in my mind who wins: Usher and Alicia Keys' "My Boo" takes the cake EVERY DANG TIME.
If you haven't heard it for yourself, take a look at the video below.
(Trust me, it's totally worth the four minutes and 34 seconds.)
OK, GREAT. Now that we're all on the same page about this song being the best, it's time for me to drop a major mind bomb on everyone.
WE MIGHT'VE FOUND OUT WHO USHER'S BOO IS ONCE AND FOR ALL. Twitter user @AbneyCamryn tweeted recently that her sister very well could have been Usher's beloved boo.
I mean, compare that pic to the one Alicia Keys has in the corner of her mirror in the video.
NOW, TRY TO TELL ME THEY AREN'T THE SAME GIRL... OH, WAIT. YOU CAN'T.
How this girl managed to refrain from non-stop bragging to her sister for every waking moment following the release of that video is beyond me.
Also, I would really love to know what kissing tips Usher gave her after he gave her her first kiss. WHAT did he tell her to put her lips like?!
Needless to say, the internet has been going crazy over this discovery.
The thing is, not everyone on Twitter was buying this pic ACTUALLY being of Usher's "boo."
So as an added bonus, more people started tweeting about some of their relatives who DEFINITELY, TOTALLY used to date our fav celebs back in the day.
This girl's aunt used to date Jay Z back in her day.
Meanwhile, Beyoncé was going to dances with this dude's Uncle Lyndall.
This guy's making long distance work with Ri Ri.
This girl's dad used to date Tisha Campbell-Martin.
Before he was a rap legend, this girl's aunt was messing around with Tupac (RIP).
But obviously, she wasn't the only one he was messing with.
This guy may (or may definitely not have been) messing with Khloe K back in elementary school.
This dude's sister could be Ice Cube's one that got away.
This girl's mom definitely used to date Kanye way back when.
And Kanye should maybe go back to her because it looks like Kim might leave him for this dude in a shower cap.
Well, until Usher says anything himself, I guess we'll never REALLY know who his "boo." is.
Ah, to have loved and lost.
Citations: People Think They've Found The Girl Usher Wrote "My Boo" About (BuzzFeed)