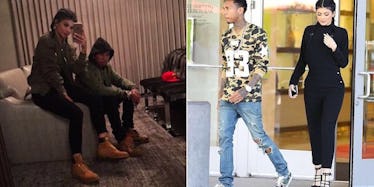 Kylie Jenner And Tyga Open Up About Arguments And Their Relationship
In a recent live stream on her app, Kylie Jenner interviewed boyfriend Tyga with questions fans freaking NEEDED answered.
In a 16-minute clip still available to view on the app, the pair warms up for a few minutes by chatting about Tyga's upcoming music video.
The rapper likens the concept to that of Michael Jackson's "Thriller," and Kylie tells him not to give too much away before returning to her real boyfriend, iPad.
Tyga attempts to bring up his video, which will star his lady love once more, but Kylie and iPad are having a moment, excuse them.
The informal interview kicks off with a little low-stakes inquisition until a fan asks how the duo ignores hate from critics.
Tyga shares,
You just gotta look at the fun things in life and be happy… as long as you know yourself and you got good people around you and you're passionate about what you do that's all that matters. Because at the end of the day, you go to sleep with the people you love, you wake up with the people you love and you spend your time with the people you love.
The couple carries on with a few more questions from fans, including one wondering how the couple makes up after a fight. Kylie and Tyga insist they rarely fight, so making up isn't really necessary.
Kylie returns to caressing iPad before listing, in detail, what she and her musician beau eat regularly.
Stars, they scarf endless bags of Flamin' Hot Cheetos just like us!
Citations: Kylie Jenner And Tyga Admit They Have 'Disagreements' But 'Don't Really Fight' (Yahoo!)