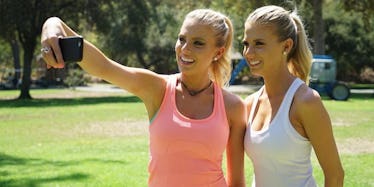 The Twins Are Returning To 'Paradise,' Here's What They've Been Up To Since Last Season
Freeform/Eric McCandless
Double trouble is coming to Paradise. The now-dubbed Fergie twins, that lovable sibling set from Ben's season of The Bachelor, will be arriving in Mexico to bring two times the drama. But what have Bachelor in Paradise twins Emily and Haley been up to lately? And, what can we expect from them this time on BIP?
On Season 20 of The Bachelor, Emily and Haley came to win Ben's heart and famously both of their occupations were listed as "twin." Not only did this make audiences laugh, it stamped an unforgettable impression on Bachelor Nation. And the description wasn't exactly wrong... These two seem to come as a package deal when it comes to their entertainment endeavors. After going to Paradise for Season 3 and making memorable cameos on Ben and Lauren: Happily Ever After? (post-show spoiler alert: They did not live happily ever after), the identical twins landed their own eight-episode reality spinoff. The Twins: Happily Ever? premiered on Freeform in March, and followed their career, journey towards successfully adulting, and goofball sisterly antics. In addition to being TV personalities, they run a lifestyle blog filled with fashion and beauty inspiration, have numerous endorsements, and they've even dabbled in some red carpet reporting.
They're also close buddies with some other big Bachelor names, like Lauren Bushnell and Nick Viall. Oh, and they're rarely not wearing bikinis when it comes to Instagram.
While the Fergusons shocked us all by leaving Paradise in Season 3, they're returning for another shot at love and fun in the sun this season. And according to the juicy sneak peek for the final episodes, they're going to bring the heat. One of them is already vying for a date with a certain someone, proclaiming, "I want to take Dean out on a date." She then tells him, "I won't take no for an answer." OK, then. In another scene, things seem to escalate to an angry place. "F*ck everybody here!" screams one of the twins.
We're looking forward to seeing what exactly will go down when it comes to the Fergies' second BIP stint. Good luck, ladies!