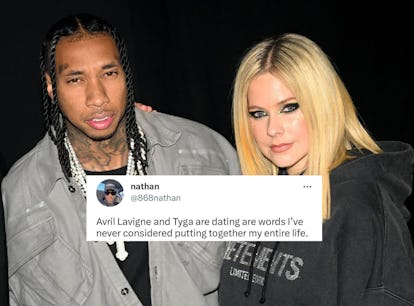 Twitter Has *Complicated* Thoughts About Avril & Tyga's Kiss
So much for Mod Sun's happy ending?
Stephane Cardinale - Corbis/Corbis Entertainment/Getty Images; Twitter
Well, Avril Lavigne is officially dating Tyga, and on March 6, they sealed their new relationship status with a kiss outside the Mugler X Hunter Schafer party at Paris Fashion Week. It didn't take long for the unexpected couple to take Twitter by storm — and it's clear that the internet doesn't quite know how to feel about Avril and Tyga.
ICYMI, Avril's rep confirmed the end of her and Mod Sun's 10-month engagement on Feb 21. At the time, a source told People that Avril and Mod Sun were "on and off for the past two months, but are no longer together as a couple." But that was only one side of the story. After the breakup confirmation, Mod Sun's rep claimed that this was the first time he learned of their split. His rep told People, "They were together and engaged as of three days ago when Mod left for tour so if anything has changed that's news to him."
So, um what is going on with Avril and Tyga? It's reportedly nothing serious — yet. "Tyga and Avril are getting to know each other," an insider told People on March 6. "It's very new. It's very casual." On Feb. 20, the duo was spotted out to dinner at Nobu Malibu, hugging outside of the restaurant and leaving in the same car, according to TMZ.
Here's how Twitter feels about the surprising duo. (Hint: They're mostly just confused.)
Avril and Tyga getting together might be unexpected, but it certainly looks like they're enjoying their time together. Paris is the city of love, after all. For Avril's ex, however, things might not be quite so dreamy.
Following reports of Avril and Tyga's 'ship, Mod Sun took to Twitter to thank those who have always been there for him. "I'm so grateful to have real friends who will sit on the phone with me for 2 hours. If you got those people in your life, do not let them go," he wrote, without giving any more context.
Just wondering, why they'd have to go and make things so complicated?