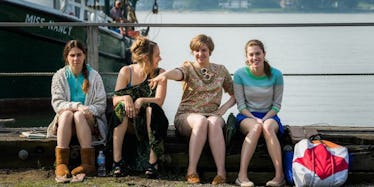 13 Tweets That Completely Sum Up Last Night's Emotional 'Girls' Finale
HBO
RIP, "Girls."
After six seasons, "Girls" finally aired its last episode on Sunday night.
HBO's often-too-real chronicle of four girls living in Brooklyn with zero black friends will likely go down as one of the more controversial things to air on HBO that wasn't just straight-up porn.
Whether you liked the show or not, you appreciated it.
You knew what it meant to have something on air with a creator like Lena Dunham at its helm, challenging and progressing the way millennial narratives were being told.
So, if you're feeling a little sad today or like you lost a friend, just know you aren't alone.
Fans of the show have flocked to Twitter and Instagram, thanking HBO for giving us six unforgettable seasons of "Girls."
Honestly, the biggest casualty from all of this--aside from not getting weekly shirtless Adam Driver moments--is the end of "Girls" recaps.
Julian, you are NOT alone. WE ARE HERE FOR YOU.
CAN WE TALK ABOUT HOW GREAT HANNAH'S MOM WAS?!?!
If your reaction was anything like mine, I hope you had a bunch of Kleenex with you.
Un-famous nobodies like you and I weren't the only ones marking the end of "Girls."
Mindy Kaling made sure to give the show some love on her Instagram account.
Allison Williams will have to go back to her old job [redacted because of "Get Out" spoilers].
Adam is one of two characters I will actually miss from the show. I know I am not alone in this line of thinking. Get at me #TeamAdam.
These four were actually the worst best friends in history.
More Adam please.
At the end of the day there is a beautiful lesson here.
Well, that's it. This is the last "Girls" post I will ever write unless Lena Dunham makes a "Girls" movie... please don't do that.