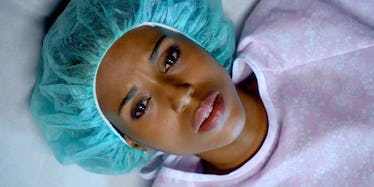 How 'Scandal' And Other TV Shows Are Tackling The Abortion Issue Head-On
ABC
TV loves to show characters hooking up. Steamy moments punctuate countless TV episodes, but the topics of contraception and abortion? Many shows would rather run for the hills than address them directly.
Increasingly, though, there are exceptions, with a new generation of creators and shows on a variety of platforms refusing to dance around these topics any more. In the past few years, a wide array of programs have considered these issues in moments both satirical and dramatic.
According to the site Remember the Abortion Episode, between 2010 and 2015, around a dozen characters were shown either getting abortions or obtaining the morning-after pill — more than the number of characters portrayed doing those things in the '80s and '90s combined.
A true reflection of the evolution of abortion's treatment on TV is its use as both political statement and well-deployed soap-opera shocker. Last November, Shonda Rhimes' flagship TGIT drama, "Scandal," had first lady Mellie Grant (Bellamy Young) filibuster to save funding for Planned Parenthood. At the end of the episode, Olivia Pope (Kerry Washington) was shown at an abortion clinic, ending a pregnancy that resulted from her relationship with the president.
That scene was a surprise, but it wasn't really a shock, knowing Rhimes' work. Characters on "Grey's Anatomy" have discussed abortion multiple times, and a character had one in 2011. "Scandal" actually took on the topic earlier in 2015 as well, in an episode in which a Navy officer who had been assaulted ended a pregnancy.
The topic of abortion has also come up in recent years on "Transparent," "Nashville" and "Jane the Virgin," which also recently had a character talk frankly about birth control options to a potential sex partner. Characters seeking to end pregnancies on "The Knick" are consistently shown as complex and thoughtful, and the same care is given to the characterization of the woman secretly providing abortions to both high-class and working class women alike.
Last November, two very different Netflix shows ("Marvel's Jessica Jones" and "Master of None"), depicted women obtaining the morning-after pill, as did the Amazon comedy "Catastrophe" this year.
"Broad City," "Full Frontal With Samantha Bee" and "Inside Amy Schumer" have touched on issues of reproductive rights in ways that are about as far from the Very Special Episode treatment as you can get. A typically subversive and topical Schumer sketch made the point that it can be easier to get a gun than reliable access to birth control.
Tara Rose, a writer for website What Else Is On TV, founded Remember the Abortion Episode in order to memorialize how TV has handled — and mishandled — the topic. "I started it to pay tribute to those shows that had the nerve to tackle the subject, even if they did a terrible job of it, and to initiate discussions around abortion as a way of addressing and hopefully breaking down stigmas," she says.
In many of the episodes she's analyzed, especially those from the more risk-averse '80s and '90s, a frequent scenario has boyfriends and husbands talking their significant others out of the procedure.
"While I don't doubt that this sort of thing happens in reality, I suspect that specific scenario is way over-represented on prime-time television," Rose said.
The opposite scenario in which the partner tries talking the pregnant person into an abortion is rarely seen on television. I find it especially weird that so many teenage TV boyfriends are eager to see their girlfriends carry an unplanned pregnancy to term. As a common source of conflict, this feels manufactured for maximum melodrama.
When it comes to abortion on TV, the iconic 1972 episode of "Maude" remains a high-water mark, in that Bea Arthur's character talked openly about her decision to terminate her pregnancy and the many complicated factors influencing it. "None of her family or friends judge her," Rose says of the character.
Even now, it's still very unusual for sitcoms to tackle abortion. Admittedly, the humor in this episode doesn't hold up that well, but I never tire of Bea Arthur delivering deadpan zingers.
When CBS re-aired the episode in 1973, dozens of affiliates chose to preempt it. Almost four decades later, in 2009, Fox chose not to air an abortion-focused "Family Guy" episode, titled "Partial Terms of Endearment."
In the gap between those two high-profile TV controversies, abortion was occasionally discussed on TV, but, as documented on Rose's site, characters rarely actually had one. It was far more common to see women decide not to go through with the procedure, or they would encounter that old TV standby — pregnancies would end via accident or illness before a decision had to be made.
"Until pretty recently, actually going through with it was clearly a TV taboo, much in the way that discussing one's real-life-abortion was something you just didn't do," Rose said.
"Buffalo Bill," "Everwood" and "Six Feet Under" were among the few shows that actually depicted characters who went through with abortions during the 1972-2009 period. Two of writer/producer Jason Katims' shows, "Friday Night Lights" and "Parenthood," sensitively told stories about young women who chose to get abortions, in 2010 and 2013, respectively. In 2010, in a quiet and subtle storyline on a show known for its big gestures, "Sons of Anarchy" showed a character going to an abortion clinic as well.
"As I recall, [the 2010 'FNL' story] was critically well-received and there was little blowback from viewers. I wonder if other writers looked at that and thought, 'Well, if they can get away with it on NBC,'" said Rose.
The increase in the number of female showrunners in the last few years is also a factor. "Girls" famously set part of its second-ever episode in an abortion clinic, and though it turned out Jessa didn't need the procedure, Adam's then-girlfriend Mimi-Rose had one in an episode that aired on HBO last year.
"It's only in response to the recent onslaught of anti-abortion legislation that large numbers of people are publicly coming out about their abortions," Rose notes.
Perhaps [that shift] is emboldening a new generation of TV writers to present characters who actually go though with it.
Given the prominence of the TV writer-producers who are willing to take on topics related to birth control and abortion, and given how many of them are women with growing clout in the industry, these topics are unlikely to fade into the woodwork any time soon. It's also worth noting that a new generation of network executives are not only less skittish about showcasing controversial themes but are actively courting creators who establish buzz by taking them on.
"Streaming and cable networks are definitely taking bigger chances with abortion," Rose noted. "For HBO and Netflix, not having to worry about sponsor boycotts probably helps."
This article was written by Maureen Ryan for Variety.