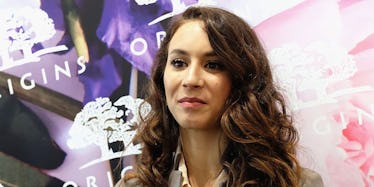 Troian Bellisario Stopped Going Online After The 'PLL' Finale Because Of Nasty Trolls
Gustavo Caballero/Getty Images
Here we are, just a few days after the two-hour Pretty Little Liars series finale episode and we can finally relax. All the tension is over... or so we thought.
It appears as if the drama of the show has been brought into the real world these past few days as reactions to the finale have been rolling in. That's right, fans of the show have a bone or two to pick with the writers and cast members of Pretty Little Liars, and they've been making their gripes perfectly clear on the internet.
Perhaps no moment in the finale disappointed fans as much as the reveal A.D. was Spencer's evil British twin Alex Drake the whole time.
In fact, fans were so distraught, Troian Bellisario, who plays Spencer and Alex on the show, had to stop reading their responses online. In an interview with TV Line, she said,
You can't satisfy everybody. I've had to consciously remove myself from looking at people's responses. As wonderful as it is when you get messages from people saying how much they like your performance, all you have to do is see that one person who's like 'This is stupid, I hate you' and it's gut-wrenching. Like, this is a story our creator came up with, and it's my job to tell that story to the best of my abilities. So when someone says you were horrible, it's hard not to take that in.
Yikes. I know fandoms take things very seriously, but it's important to remember that this is fictional, people. Showrunner I. Marlene King even received death threats over the show's big reveal, which is beyond excusable.
Many of the show's longtime fans are disappointed in the narrative the show runners chose to focus on in the series' final moments. Indeed, the decision to focus on the Liars' relationship statuses, marriage, and fertility is almost directly oppositional to the focus that was once paid to their friendships, developments as individuals, aspirations, and interests.
On a much lighter note, Bellisario went on to talk about some of the choices she made while playing Spencer's British twin. She said of her character's accent,
I really wanted to make her an Essex girl. I made her sound very different from [the other British characters], it'd be easier to tell that this is a living, breathing person from a specific place with a specific history.
Clearly, a lot of thought went into the finale episode, so it seems unfair to target the actress for her hard work. Whether or not you agree with how things turned out in Rosewood, remember it's just a show. And maybe keep your fingers crossed for a spinoff that will fix everything.