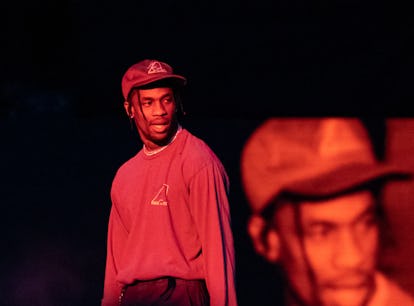 Travis Scott Just Opened Up About The Astroworld Tragedy: "It Really Hurts"
He said he feels a responsibility to get to the bottom of what happened.
Lorne Thomson/Redferns/Getty Images
On Thursday, Dec. 9. Travis Scott sat down for his first interview since the Astroworld tragedy took place in Houston on Nov. 5. The rapper had an hour-long conversation with Charlamagne Tha God to explain what happened at his show, where 10 attendees died and hundreds more obtained injuries. "I didn't know the exact details until minutes before the press conference [after my set], and even at that moment, you're like, 'Wait, what?'" he said while explaining what happened from his vantage point. Scott got emotional talking about the incident, and even vowed to find out exactly what went wrong so nothing like this happens again.
Scott said he would have stopped the concert if he had realized so many people were getting hurt in the crowd. "It's so crazy because I'm that artist too — anytime you can hear something like that, you want to stop the show," he said. "You want to make sure fans get the proper attention they need."
"Anytime I could see anything like that, I did [stop]. I stopped it a couple of times to just make sure everybody was okay," he continued. "I just really go off the fans' energy as a collective — call and response. I just didn't hear that. I got music, I got my in-ears, but I just didn't hear that."
Charlamagne then asked Scott about the "raging" that goes on at his concerts. "Raging… there's not a textbook definition," Scott said. "It's not about harm. It's about just letting go and having fun. Help others, love each other... The show isn't just rambunctious for an hour, that's not what it is."
He also revealed he's been doing "a lot of grieving" since the tragedy took place last month. "I really just wanted to be there and wish I could kind of just hold everyone and heal them, talk to them, have conversations," he said in reference to his fans. "It really hurts, man."
Moving forward, Scott promises to make a change. "I have to be a voice so this doesn't happen at shows in the future, period, and figure out the solution to ensure people's safety," he said. "I have a responsibility to figure out what happened here. I have a responsibility to figure out the solution."
Watch Scott and Charlamagne's full conversation above.