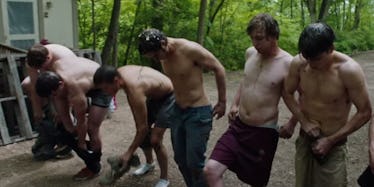 The Trailer For Nick Jonas And James Franco's New Movie Looks Crazy Intense
YouTube/MTV
Hollywood loves churning out fun, crazy films celebrating the glory of Greek life on American college campuses.
Movies like "Animal House," "Neighbors," "PCU," "The House Bunny" and "Revenge of the Nerds" glamorize the wild parties and, though they occasionally graze upon the whole brutal hazing issue, generally tread lightly on the plight of pledges.
From the look of the new trailer for "GOAT," starring James Franco and Nick Jonas, we may be in for a dose of gruesome reality regarding "brotherhood" as it exists on some college campuses nationwide.
Sleep deprivation, social isolation, physical and psychological manipulation are torturous methods of initiation and indoctrination that should be difficult to watch.
This movie's purpose may not be to influence Greek men and women to exercise caution and respect when inducting new members. It may not pay homage to the kids who have died trying to be enough for their someday brothers and sisters. It may not be more than a psychological thriller where we maybe get to see Nick Jonas shirtless (if we're lucky).
But, at times, it will be hard to watch. As it should be.
"GOAT" hits theaters on September 23.