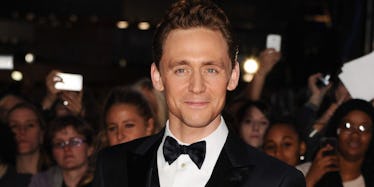 Tom Hiddleston's Butt Just Won An Award -- We're Not Kidding
Shutterstock
It's all starting to make sense. Taylor Swift is only dating Tom Hiddleston because of his butt award.
Wow, Taylor. Just -- wow.
A guy gets ONE butt award and now he's just an object for you to collect? Like a Pokémon, if all Pokémon had super hot little cartoon asses?
Wow, Taylor. Wow.
The 35-year-old actor recently followed in the footsteps of Daniel Radcliffe and Olly Murs when he was named Rear of the Year, E! News reports.
I know what you're thinking: Why is it always a British guy who wins a butt award?
According to the competition's website, candidates are actually required to be British. A woman and man are chosen each year to represent the best butts Britain has to offer.
Who knows how these lil limey butts would stack up in a worldwide competition? Would they stand a chance against literally any other country? That's a tough call.
To Tom's credit, his butt's big debut in the BBC series "The Night Manager" — during a steamy sex scene with costar Elizabeth Debicki — was so hawt hawt hawt the scene was cut from stateside airings.
I'm extremely disappointed that AMC didn't show Tom Hiddleston's butt last night. I wanna see it in motion!!! pic.twitter.com/1aKDVKmYYj — Miss Purple (@purplefille) May 11, 2016
In an interview with W Magazine, the 2016 Emmy nominee claimed, despite the censorship, his cheeks are p. non-threatening.
He said,
I was surprised to hear that they cut my butt out!…I'm here to tell you that my butt is not dangerous.
If Tom's butt is any indication of the what's going on across the Atlantic right now, the motherland truly has something to be proud of.
And that something is butts.
It's butts.
Citations: Tom Hiddleston Wins 2016 Rear of the Year Award for This Sex Scene (E! News)