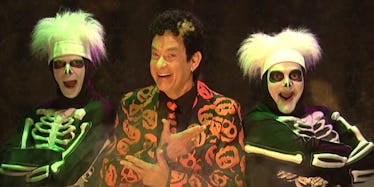 Tom Hanks As David S. Pumpkins In Horror Films Is The Perfect Halloween Treat
NBC
IT'S DAVID S. PUMPKINS, MAN.
When Tom Hanks hosted "Saturday Night Live" last weekend, I knew it would be a good episode.
I had no idea that I would be meeting my new nightmare...
David S. Pumpkins, played by Hanks, has become so popular that the pumpkin suit he's wearing has already sold out for Halloween.
Meanwhile, one genius Twitter user decided to insert David S. Pumpkins into a bunch of scary movies thus proving that any horror film is made even more terrifying with him in it.
DAVIDSPUMPKINSMAKESEVERYHORRORMOVIEEVENMORETERRIFYING pic.twitter.com/cDO7gWMua9 — Jesse McLaren (@McJesse) October 28, 2016
I am not embarrassed to say that "The Ring" bit actually made me jump out of my seat.
Dare we say that Jesse McLaren is a horror mastermind?
McLaren edited our new Halloween mascot into essential movies for horror fans, including "Halloween," "Insidious," "Scream," "The Shining" and "The Ring."
The character is the perfect combination of weird, oddly sexual, totally random and kind of scary.
I think it's that ever present smile that gets me...
Hopefully, we'll get to see more of David S. Pumpkins next Halloween. Until then, we're left with so many questions.
Who exactly is David S. Pumpkins?
Why are his skeleton b-boys so cool with being his backup?
How did he land his job at the "Haunted Elevator?"
I didn't think it was possible for something to be scarier than two dead twins in an empty hotel, but then I saw these guys...
We totally understand why 73 out of a 100 floors feature David S. Pumpkins in the "Haunted Elevator" ride.
If you're anything like me, you'll want to re-watch this sketch every Halloween and at least 57 times this year.
Just why is this sketch so funny? It's probably because we're just as confused as Kate McKinnon and Beck Bennet.
Keegan-Michael Key, the co-creator of "Key & Peele," put it simply,
I think people don't notice this sometimes, but more often than not, when you laugh when you're watching a comedy, you're laughing on the reaction shot... You're laughing at the person who's reacting the way you're reacting.
In this instance... do we have any questions? SEVERAL.
Citations: DAVID S. PUMPKINS INVADES THE SHINING AND OTHER CLASSIC HORROR MOVIES (Nerdist)