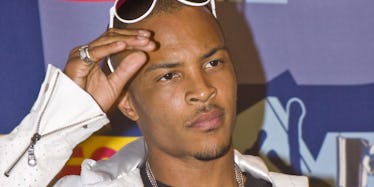 People Are Pissed After TI's Sexist Comments About A Female President
Getty Images
I don't care what his Wikipedia page says, TI's name stands for "This Idiot."
In case you're one of maybe eight people who were wondering how TI felt about the 2016 presidential election, his views on a female president, and Hillary Clinton by extension, are awful.
During an interview with DJ Whoo Kid, TI gave his two cents on why he wouldn't vote for the possible Democratic nominee. He said,
Not to be sexist but, I can't vote for the leader of the free world to be a woman. Just because, every other position that exists, I think a woman could do well. But the president? It's kinda like, I just know that women make rash decisions emotionally -- they make very permanent, cemented decisions -- and then later, it's kind of like it didn't happen, or they didn't mean for it to happen. And I sure would hate to just set off a nuke. [Other leaders] will not be able to negotiate the right kinds of foreign policy; the world ain't ready yet.
In his defense, he DID say "not to be sexist" before he started being remarkably sexist, so it's fine, kinda like yelling, "PUNCHFEST 2015!" before decking an old lady in the back of the head or having Christian Bale proclaim, "You just got rejected from Bale University," after yelling at a worker on film set.
TI ended his offensive remarks with an even more offensive remark, saying,
I think you might be able to [get] the Loch Ness Monster elected before you could [elect a woman].
So, to recap: In TI's world, a mythical water monster who terrorizes a small body of water in Scotland is a more electable option than Hillary Clinton, a former secretary of state and Yale Law School alumna.
Here's the awful kicker: TI wasn't even the worst person in the interview!
DJ Whoo Kid started off the discussion when he said,
That's a big vagina to put in the [Oval] Office.
I didn't think this was possible, but I honestly expected more from DJ Whoo Kid.
Later in the interview, Tip expressed his thoughts on Donald Trump, saying, racist comments aside, The Donald had potential as a nominee. He told DJ Whoo Kid,
Just knowing what [Trump's] done for business for himself, if he intends to do that for America, it would be beneficial. But I can't cash no vote for him.
Oh, and you can bet your legendary Scottish water beast people online are pissed at TI over his comments.
T.I.'s comments about hilary clinton is exactly what i expected from someone who also said there's no racism in Australia. — Ahmed/MF DICK (@big_business_) October 13, 2015
I have my reasons for not voting for Clinton but being a female is definitely not one of them. T.I is just ignorant. — Michiko (@IgboOtaku) October 13, 2015
Girl: T.I. said he wouldn't vote for Hillary Clinton because she's a woman. Guy: What's wrong with that? Me: pic.twitter.com/j198gB0GUo — Lesley Wright (@lesleywright_) October 13, 2015
Since the interview spread, TI's social media intern issued an apology for TI's comments.
My comments about women running for president were unequivocally insensitive and wrong. I sincerely apologize to everyone I offended. — T.I. (@Tip) October 13, 2015
Hey! I got a TIP for you, how about you stay the eff away from voting booths in 2016.*
*That is the single best burn I've ever made.
Citations: T.I. Apologizes After Saying He Couldn't Vote for Hillary to Be President Because "Women Make Rash Decisions Emotionally" (Cosmopolitan), T.I. On Hillary Clinton: "I Can't Vote For The Leader Of The Free World To Be A Woman" (VIBE)