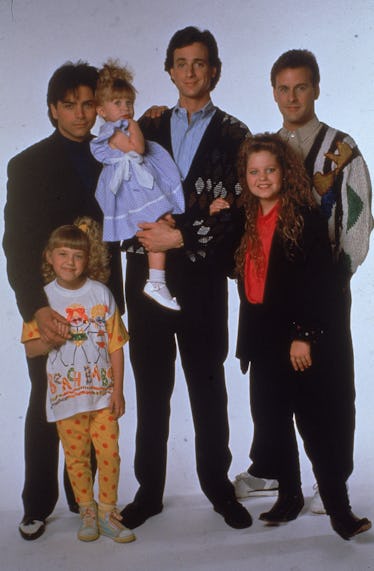 These Are Just A Few Of The Insanely Vulgar Things Bob Saget Did On The Set Of Full House
The sitcom's set got wild.
Fotos International/Archive Photos/Getty Images
If you thought Full House was a show of sunshine and rainbows, you were wrong. Horribly wrong.
We all know Bob Saget as goody two-shoes dad, Danny Tanner, on the '90s family sitcom, but after Full House wrapped, Saget didn't waste any time trying to shatter his Danny Tanner image. From vulgar jokes in his standup routines, to inappropriate and sexual tweets, all the way to smoking weed in public, we thought we'd seen it all.
Now, Saget is about to crush your Full House fantasies with his new memoir, Dirty Daddy: The Chronicles of a Family Man Turned Filthy Comedian, set to hit bookshelves tomorrow. It reveals some of the wild things Saget did on the set of the hit show.
Here are some things to think about the next time Full House gives you a warm feeling in your heart.
The Time Bob Saget Made Sexual Gestures On A Doll:
When the Olsen twins weren't on set, Saget had to practice with a doll, and he couldn't resist groping it. In his memoir, he writes, "I couldn't help it. The whole show for me was like a beautiful Jekyll and Hyde experience. Being silly helped us survive a super-clean-cut show that at first mostly got panned but then in retrospect became part of family-television humor."
The Time Dave Coulier Blew Up The Set With His Enormous Farts:
Coulier was known for his disgusting smelling farts. They were so memorable, Saget remembered enough details to include them in his memoir. Coulier would look at Saget and say, "You'd kill yourself if I wasn't here," then he would fart and say his famous Uncle Joey tagline: "Cut it out."
The Time Bob Saget, John Stamos, And Dave Coulier Did Whip-Its On Set:
One day, while the young girls were taking a long time to shoot their scene, the three guys thought it would be fun to raid the prop room refrigerator. Upon entering, they discovered six cans of Reddi-Wip whipped cream and took turns taking hits of the nitrous oxide.
Saget reminisces, writing, "We were laughing, paranoid to be doing something so dumb. I guess we got high, don't think so, though. It was hard to tell…"
The Time Bob Saget Drew Penises On The Scripts:
While in meetings with producers and writers, Saget thought it would be hilarious to draw penises on the scripts and show them to Coulier and Stamos. The three of them were like elementary school kids. Not surprising, considering they had to be around each other 24/7.
The Time Bob Saget And John Stamos Slept In Bed Together:
Saget writes about a trip he and Stamos went on to see an Elvis impersonator in Las Vegas. Saget got so drunk that Stamos "ended up literally taking off [his] shoes, cutting up [his] room-service steak and feeding [him] so [he] wouldn't yack."
He continues, "Then he put me to bed. He went to bed soon after. Next to me. When I woke up the following day I realized... I had just slept with John Stamos."
Bonus: Bob Saget's Relationship Plans For 2040:
"When I'm 84 all I'm gonna do is have sex. Dirty sweaty veiny old-people sex. With the most beautiful, highest-tech machines on the market. That's right, I got it all planned. It'll be the year 2040, and I'll have the hookup! I'll be getting me some old-man techno pussssayyy!!
"Sorry, needed that outburst. Forget everything I just wrote. In 2040 I'd like to be spooning in bed with someone I love. Please submit your applications in double-spaced writing. John Stamos need not apply."