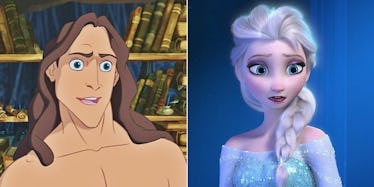 This Theory About Elsa, Anna And Tarzan Will Absolutely Blow Your Mind
Disney
Imagining all Disney movies exist in one world may get a bit contrived on a large scale (I'm looking at you, "Once Upon A Time"), but a little theory from "Frozen" director Chris Buck connecting the Princesses of Arendelle to the title character of "Tarzan" actually fits pretty neatly into place.
Buck believes Tarzan is the long lost brother of Anna and Elsa.
During a Reddit AMA, Buck's codirector, Jennifer Lee, explained the theory.
She wrote,
…according to Chris, [the parents] didn't die on the boat… They got washed up on a shore in a jungle island. The queen gave birth to a baby boy. They build a treehouse. They get eaten by a leopard…
In an interview with MTV News, Buck claimed his full theory extends outside of the Disney universe.
He said,
So in my little head, Anna and Elsa's brother is Tarzan — but on the other side of that island are surfing penguins, to tie in a non-Disney movie, 'Surf's Up.' That's my fun little world.
There's no real proof Buck's version of events is true, but there's no harm in hypothesizing.
He claimed,
I say, whatever people want to believe, go for it. If you want to tie them all together, then do it. That's the spirit of Disney.
Cue "It's a Small World."
Citations: Frozen director likes to think Tarzan and Anna are related (Entertainment Weekly), 'Frozen' Director Debunks Major Disney Conspiracy Theory (MTV News)