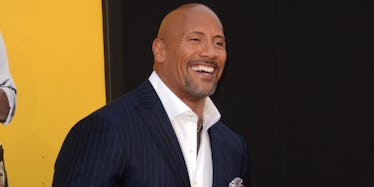 The Rock Had The Best Reaction To Being Named Forbes' Highest-Paid Actor
Shutterstock
Anyone who said butts n' sports weren't a match made in financial heaven clearly hasn't seen "Ballers."
OK, I haven't seen "Ballers," either, but I assume there are butts.
I assume there are sports.
I assume I'm the only person not watching this beautiful ballet of butts, sports, shameless product placement, pretty ladies at pool parties and slow-motion walking past yachts.
Why?
The HBO show's star and executive producer, Dwayne "The Rock" Johnson, earned 64.5 million dollars this year, making him the world's highest-paid actor and securing his spot at number 19 on Forbes' list of the World's Highest-Paid Celebrities.
Johnson posted a tribute to himself (get it, sis) on Instagram, insisting the honor "will always serve as my anchoring reminder to continue to work even harder."
In the photo's caption, the 44-year-old reminded fans of his humble roots, writing,
I was evicted at 14 yrs old and completely broke by 23. Every day I wake up as if that eviction notice is right around the corner waiting for me… We embrace and respect our past (even if it was f*cked up), but we never let it define our future. Let's stay hungry and chase that greatness.
In honor of his success, let's all vow to stay hungry AF and surround ourselves with friends and colleagues trying to ball just as hard as we are.*
*Sorry I said "hungry AF" And "ball hard." I'll just… I'll go.
Citations: The World's Highest-Paid Celebrities (Forbes)