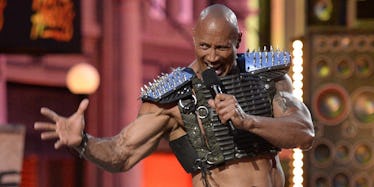 No One Could Stop Talking About The Rock's Bulge At The MTV Movie Awards
REUTERS/POOL New
We gotta talk about The Rock's rocks for a quick second.
The MTV Movie Awards aired on Sunday night, and I think it's pretty safe to say The Rock's gigantic wang outline is all we'll probably remember from the night. Seriously, I've been thinking about the event since this morning when I got up, and all I can remember is Melissa McCarthy did something, I think I saw Adam Devine at one point and Dwayne Johnson's bulge.
Is that a giant tub of golden popcorn in your pants or are you just happy to see us?
Just to put his bulge into perspective, The Rock's dong rendered Kevin Hart speechless. This has literally never happened ever.
Kevin Hart hasn't not said words every second of being awake since 1993.
More like Dwayne "The Cock" Johnson, AM I RIGHT?!?!?!
Not looking, but is it impossible not to notice the HUGE bulge on the Rock? NOT THAT I"M LOOKING! #MTVMovieAwardspic.twitter.com/dZb22WIcx8 — Greg on the Radio (@GregOnRadio) April 11, 2016
I haven't seen a load o' bologna that big since "Batman v. Superman: Dawn of Justice"! ZING!
For real. If you see Henry Cavill today, make sure to compliment him. I don't think he'll ever be able to not fill the spandex bar The Rock just set...
Citations: The Rock Dressed Up As Superman And We Need To Talk About His Bulge (BuzzFeed)