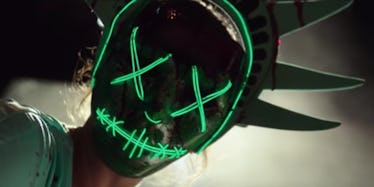 US Politics Turns Violent In The New Trailer For 'The Purge: Election Year'
Universal Pictures
In an election year that has been more cinematic than sane, the new "Purge" trailer promises to make America hate again.
Universal Pictures released the trailer this week, which was the second it has produced for "The Purge: Election Year."
The video begins as a parody of a real-life election year and the cheesy television commercials that come with it. But, then it gets to the real action, and reveals a central story line to the plot.
A senator and presidential candidate Charlene Roan, portrayed by Elizabeth Mitchell, who is best known for her work as Juliet Burke on the TV show "Lost," is being hunted down by a political rival who is using the annual 12-hour purge to eliminate her.
The trailer is full of scenes that show Roan and recurring "Purge" character Leo Barnes trying to navigate their way to safety. And, of course, the trailer is also full of the grim and gory scenes you've come to expect from the "Purge" series.
The movie is scheduled to be released on Fourth of July weekend.