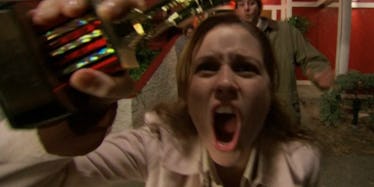 Pam From 'The Office' Reconciles With Chili's After Getting Banned In 2005
NBC
"The Office" had two iconic moments involving chili: The first Dundies, which were held at Scranton's Chili's branch, and the time when Kevin Malone spilled chili all over Dunder Mifflin's carpet.
In the first instance, Pam Beesly (AKA Jenna Fischer) was banned from Chili's after drunkenly sneaking drinks off of other people's tables.
Huh, I'm not allowed anywhere near Applebee's because of a "Coyote Ugly"-style dance I performed on the top of their bar, and Pam wasn't allowed back into Chili's?
Maybe Jim was supposed to be Tim, if you know what I mean...
Well, Jenna... uh, I mean, Pam recently took to Twitter to tweet out a picture of her standing forlornly in front of a Chili's, asking her followers if she should go in.
No, Pam! You're not allowed inside! THIS WILL LEAD TO YOUR ARREST! RIGHT? THAT'S HOW FICTITIOUS RESTAURANT BANS WORK, RIGHT?
Well, Chili's responded to her viral tweet and forever buried the hatchet between the restaurant chain and the once-excommunicated receptionist.
If you're like me and clicked on the link within their tweet above, you'd find the following (and real) Chili's press release:
Effective immediately, Chili's® Grill & Bar has removed the longstanding ban on a Scranton, Pennsylvania woman who allegedly caused a disturbance during a company awards party held at a Chili's near the Pennsylvania town of Scranton. The woman, Pam Beesly Halpert, received a prestigious award for having the whitest sneakers in the company. After thanking her shoes and coworkers, the woman declared, 'I feel God in this Chili's tonight.' 'After reviewing the good conduct of Pam, I have decided to lift the now 11-year ban,' said Kelli Valade, President of Chili's. 'Pam is an inspiration to many and we welcome her with open arms.'
I'm glad Chili's lifted their ban. See? Doesn't it feel good to lift arbitrary bans? *Cough, Trump, cough*
If you had any hope Pam would treat the restaurant with sober respect, you'd be wrong.
Pam/Jenna replied to their tweet, writing,
Second drink is what you call a watered-down drink that appears to have remarkably replenished itself after its ice has melted.
So yeah, Pam might be kicked out again.
Citations: After 11 years, Pam Beesly from 'The Office' is finally allowed back into Chili's (Mashable)