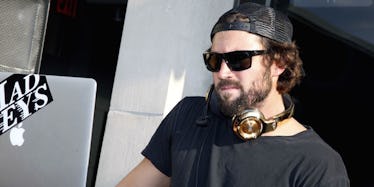 The Newest Jenner's Name Is Going To Make Family Parties Very Confusing
REX/Shutterstock
And with the birth of Bodhi, the Jenner family male name tradition lives on for another generation.
The Kardashians obviously have an obsession with the letter "K." Kendall, Kylie, Kourtney, Kim, Khloé, Kris -- all Ks. It's their thing. Jewish people have naming their kids after characters from the Torah, the Kardashians have the letter "K."
Yup, those two things are exactly the same level of importance here.
But the Jenner family also has a small obsession with a letter when it comes to naming their children, and that letter is the letter "B."
Burt, Brandon, (formerly) Bruce and Brody Jenner all follow the basic B-centric name scheme, a scheme that while clever, also has a built-in handicap.
Everyone knows there are only three names that start with the letter "B," so when Burt's son with his partner Valerie was born a few days ago, he had to improvise and invent a new name.
Meet Bodhi!
Yup, Bodhi Jenner! Because the names Benjamin, Bradley, Billy and Bernard all don't exist!
Bodhi has already started making social media waves after a cameo on Caitlyn's Instagram page over the weekend.
Bodhi Jenner in a family who already has a Brody Jenner? Good. That shouldn't be confusing.
Very excited to meet the next Jenner male child: Beffery Jenner.