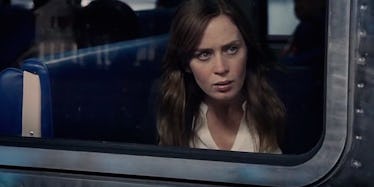 'The Girl On The Train' Trailer Is Finally Here, And It Looks Incredible
Universal Pictures
The first official trailer for "The Girl on the Train" is here, and it honestly looks incredible.
The film stars Emily Blunt as Rachel, a drinker who notices a woman disappear while on her commute to work and becomes heavily involved in the investigation.
The movie is based on the book by Paula Hawkins and is directed by Tate Taylor.
It's an action-packed thriller with a lot of mystery that will leave you on the edge of your seat, that's for sure. After watching the two-minute preview, I already have goosebumps. You can check it out for yourself in the video above.
Unfortunately, we'll have to wait until October 2016 for the movie to hit theaters. But, this trailer is already enough to get me super pumped for the film.