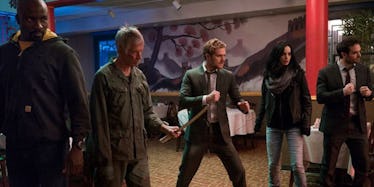 'The Defenders' Just Released On Netflix And Fans Are Already Wondering About Season 2
Netflix/YouTube
Hello, my little binge-watchers. Today is a good day, and there is finally a good excuse to still have your ex's Netflix account signed in on your computer: the first season of The Defenders was released. The hype surrounding the newest Marvel/Netflix collab during the lead up to its debut was huge, and, let me tell you, the show delivers. I mean, realistically, did we expect a show featuring Iron Fist, Luke Cage, Jessica Jones, and Daredevil (not to mention with Sigourney effin' Weaver as Alexandra) to suck? Exactly. Of course, as with many Netflix original series, especially ones that are this amazing, fans are already wondering: Will there be a Defenders Season 2?
Well, I have some sad news for you. You should probably savor these eight episodes for as long as you can because, as of right now, it looks like we might not get a Defenders Season 2. Of course, this is not set in stone and, depending on the success of Season 1, we could very well end up seeing a followup season, but, according to Marvel TV Head, Jeph Loeb, there is no plan for a second season in the works right now. While promoting the Netflix/Marvel mashup at San Diego Comic-Con last month, Loeb told Collider,
I don't know. We haven't really gotten to that place. I don't know that there will be a Defenders #2.
*Queue soft sobs.* Though this is obviously devastating news for all of us, it does kinda make sense. The Defenders is a crossover series that acts as a single culmination to all four previous major Netflix/Marvel collabs, so a second season would require a whole new set of storylines to intertwine. (I mean, would that really be so bad, though?)
I guess for now we should just be happy we have Season 1 to binge and The Punisher to look forward to in the fall.