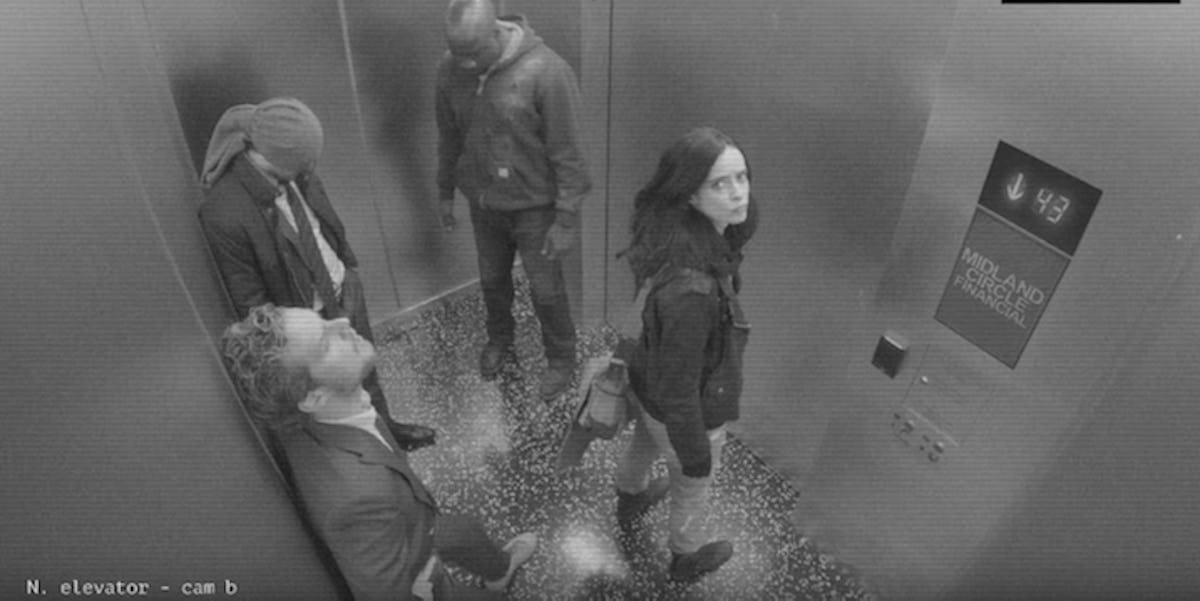 Netflix Accidentally Revealed 'The Defenders' Premiere Date In Leaked Teaser
YouTube
The Defenders are on their way, and sooner than you may have thought! Netflix just uploaded a new teaser for their Avengers-style superhero team-up miniseries, and while it may seem like just an insignificant little clip at first, it actually subtly reveals when the show is going to premiere!
The 15-second clip, which was uploaded to YouTube, then removed and then re-uploaded, sees the title characters of Netflix's four Marvel shows in an elevator together.
Daredevil (Charlie Cox), Jessica Jones (Krysten Ritter), Luke Cage (Mike Colter) and Iron Fist (Finn Jones) are finally all together and preparing to take on Midland Circle, which is the mysterious organization that appears in the second season of "Daredevil."
But we don't just sit around and watch our four heroes as they wait in the elevator. At the end of the clip, Jessica Jones notices the security camera and punches it.
In the midst of the static, we see that the time stamp in the upper left hand corner freezes on a very important time — 08:18:20:17.
Yep, looks like we have a premiere date, people! August 18, 2017 — just a bit over three months away. And in case you're still not buying it from that time stamp freeze, Netflix put another subtle little clue in there to confirm the premiere date.
If you enter the numbers in the upper right hand corner into your browser, "http://23.253.120.81" will actually redirect you to a the New York Bulletin webpage — the fictional newspaper that Karen Page of "Daredevil" works for.
After scrolling through some fun, fictional headlines, in tiny print at the verrry bottom of the site, it confirmed that "The Defenders" will indeed begin streaming on August 18.
The premiere date reveal is so tiny that you might miss it, but if you look closely at the super small print at the bottom of the webpage (which is so small it appears to be a watermark), you can see the confirmed premiere date.
So, there you have it: You've got about three and a half months to get through "Daredevil," "Jessica Jones," "Luke Cage" and "Iron Fist" if you haven't binged them all already, so you can be completely ready for "The Defenders!"