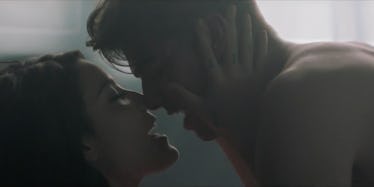 The Chainsmokers Finally Dropped A Music Video For 'Closer' And It's Steamy AF
YouTube
THE CHAINSMOKERS RELEASED THEIR MUSIC VIDEO FOR "CLOSER," AND I AM PRETTY MUCH FREAKING THE HECK OUT IF YOU COULDN'T TELL.
Let me preface this sexy AF, yet super emotional music video by saying that The Chainsmokers' single "Closer" was my main summer anthem.
So baby pull me closer In the backseat of your Rover That I know you can't afford Bite that tattoo on your shoulder Pull the sheets right off the corner Of the mattress that you stole From your roommate back in Boulder We ain't ever getting older
Real talk though, how many of us used one of those lines as our Instagram captions this summer?
My squad and I took a trip to California in September… and what was the first song on our vacay playlist?
"Closer," obviously.
I don't know if our vacation would have been the same without "Closer," TBH.
We'd bump it in the car with the windows down, streamed it while we ate breakfast and played it UP when we curled our hair, soaked up the sun on the beach as we applied our lipstick for going out AND when we pre-gamed it like total bosses.
I'm usually a pretty chill person on the reg… but when I heard The Chainsmokers casually dropped their music video for "Closer," I honestly couldn't keep my cool.
It's oh-so seductive, so try to keep your clothes on.
Halsey and Drew play exes in the music video.
Their interactions will completely break you.
Things also get v. steamy, and they make out a ton.
Drew and Halsey are at a party on opposite sides of the room as they keep looking at one another.
Halsey peaces from the party, and Drew follows her outside.
As for how the ending plays out... you'll just have to watch the entire video above to see.
But seriously though, things gets really emotional and you'll have SO MANY FEELS ALL AT ONCE.
BRB, just low-key drying off my tears.
Citations: The Chainsmokers "Closer" Music Video Is FINALLY Here (Teen Vogue)