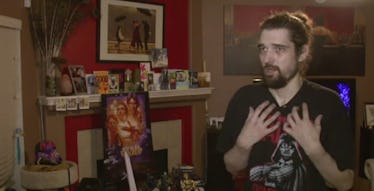 All This Terminally Ill Man Wants Is To See 'Star Wars' Before He Dies
Fandom is a powerful thing. Just ask Daniel Fleetwood of Spring, Texas.
Fleetwood suffers from a rare connective tissue cancer called spindle cell sarcoma.
In July, Fleetwood was given just two months to live. But as his wife, Ashley, says, he's a fighter.
Fleetwood is not only fighting to live just one more day with his family, he is also fighting for a chance to see "Star Wars: The Force Awakens."
Fleetwood recently told Click 2 Houston,
Judging by how progressive the disease has gotten in the past two months, I don't think I'll be able to make it [to the movie]. I just love Star Wars. With everything I got, I love Star Wars.
Fleetwood is hoping the good folks at Disney will find it in their hearts to let him screen the film before he goes.
And it appears the Internet is coming together to back him up using the hashtag #ForceForDaniel.
I'm a diehard Trekkie, but today I'm a #StarWars fan. May the force be with you, Daniel. #ForceForDaniel — Michele Mahone (@Mmahone) November 3, 2015
@starwars We're I in his shoes, it would be my last request too. I appeal to your compassion. #forcefordaniel — Hana ن (@from1791) November 4, 2015
Dear @DisneyStudios, Your magic has touched so many lives, it is time to impact another. Please make this happen. #ForceForDaniel — Tony Beltran (@tonybeltran23) November 3, 2015
#JJAbrams please honor a dying fan's wish! #ForceForDaniel — Jason Gambrel (@GambusKahn) October 30, 2015
Even Peter Mayhew, the man who plays Chewbacca, is supporting the cause:
.@starwars @bad_robot #ForceAwakens #ForceForDaniel https://t.co/b6CbtIerYW — Peter Mayhew (@TheWookieeRoars) November 3, 2015
Time, however, is truly of the essence. On Monday, a scan revealed Fleetwood's lungs are almost completely covered in tumors.
Add your support to the cause by joining the thousands of others who are tweeting #ForceForDaniel.
Citations: Terminally ill 'Star Wars' fan just wants to see the new movie before he dies (Mashable)