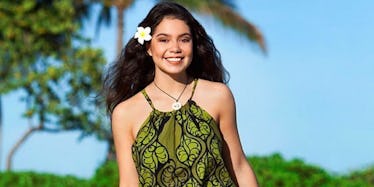 This Teen's Reaction To Finding Out She's The New Disney Princess Is Everything (Video)
Nearly every little girl dreams of being a princess, but few get to see it come to fruition.
Unless of course, your name is Auli'i Cravalho.
Cravalho, a 14-year-old from Hawaii, was just cast as the voice of Moana, Disney's newest princess.
The upcoming Disney film follows a Hawaiian girl named Moana as she embarks on a daring journey across the Pacific Ocean in an attempt to fulfill her ancestors' legacy.
Along the way, the brave teen faces down dangerous beasts and overcomes "impossible odds," eventually emerging a strong, courageous young woman capable of anything she sets her mind to.
Like her character, Cravalho is a young native Hawaiian with big dreams and the drive to make them come true — in other words, she's everything a Disney princess should be.