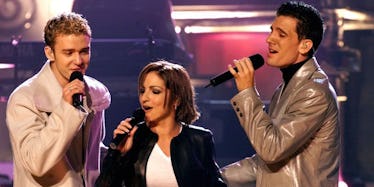 These Pics From The First Teen Choice Awards Will Hit '90s Kids Where It Hurts
REUTERS
Did you guys know the Teen Choice Awards are still a thing?
I know it's hard to conceptualize that people younger than you even exist, but it's true. Teens are real and they're out there giving awards to celebrities.
This year's show airs Sunday, July 31 at 8 pm on FOX.
Teen Choice Award veteran Justin Timberlake will be there to receive the Decade Award. Jennifer Garner, Jessica Alba, Chris Evans and more are also expected to make appearances.
But you know what's more interesting than things happening right now? Things that happened 17 years ago!
Which is why so many are taking a trip down memory lane, back to the year 1999, to the very first Teen Choice Awards show.
*NSYNC performed with Gloria Estefan, because Justin Timberlake will never not be part of this show.
Brandy was adorably thrilled about her surfboard for Choice TV Actress.
Obviously, Britney Spears was there in her signature outfit.
And don't forget about Christina Aguilera singing "Genie In A Bottle."
Sandra Bullock's outfit was very, very '90s.
Actually, everybody's outfits were very, very '90s.
Back then, Buffy Summers, aka Sarah Michelle Gellar, was still slaying vampires.
And Tyra Banks was still America's top model.
Jennifer Lopez...basically hasn't changed at all.
Take us back, 1999 Teen Choice Awards!
Citations: 21 Photos From The 1999 Teen Choice Awards That Will Make You Wish You Had A Time Machine (BuzzFeed)