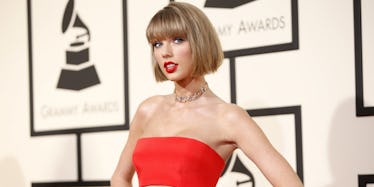 Taylor Swift Looks Just Like Hansel From 'Zoolander' On The Cover Of Vogue
REUTERS/Danny Moloshok
Man, it's always that damn Taylor Swift! She's so hot right now! Taylor Swift is SO hot right now.
If you want to stay up to date on pop culture, you should probably check out Taylor Swift's Vogue photo shoot. Take a good long look at that cover photo of Tay. See anything familiar about it?
Anyone else come to mind? Perhaps someone else who is really, really, really, ridiculously good looking?
I think people with excellent taste in early 2000s comedies might know what I'm talking about.
I CAN'T STOP LAUGHING AT THIS COMPARISON. THEY HAVE THE EXACT SAME HAIR.
Look, I'm not trying to say Taylor Swift doesn't look gorgeous in her Vogue photo shoot. I'm just saying Owen Wilson as Hansel in "Zoolander" is also pretty gorgeous. And if you've never seen "Zoolander," please fix your life ASAP.
I'll admit T. Swizzle's doing pretty well for herself, but if she ever wants a change of career she should consider taking up male modeling.
OK, now let's all take a moment to profusely thank Maeve McDermott and Jayme Deerwester for blessing us with this gift.
I will be giggling in random spurts for the rest of the day every time I imagine Taylor Swift's voice saying,
Well then you can just dere-lick... my balls.
Peace. God bless.