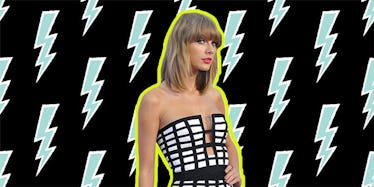 Taylor Swift May Have Predicted Her Kimye Nightmare In This 2015 Interview
REX/Shutterstock
Apparently, Taylor Swift has always been really afraid of being secretly recorded. So, um, I guess Kim and Kanye helped her faced her fears?
In an old interview from 2015 that Capital FM radio dug up from their archives, the DJ asked the 26-year-old if she ever got anxiety dreams.
Taylor replied she definitely did and went on to describe a few things that made her anxious even during waking hours.
And guess what was the very first thing on that list?
Taylor said,
My reality is peppered with anxiety. I have a lot of issues with buildings like this, 'cause I always feel like someone has bugged the room and is either videoing me or recording me. So that's one of my paranoias.
On the one hand, there's probably no way Kim could have known how much Taylor hates being recorded, right?
But on the other hand, I wouldn't put it past Kim to store any and all personal information away for later in case she needs to plan someone's demise.
Kim remembers everything, remember?
I have a thousand favorite parts of @caityweaver's @KimKardashian profile, but this part might stick with me most. pic.twitter.com/Eg0xUt32HE — Alanna Bennett (@AlannaBennett) July 18, 2016
Taylor also said on that radio show she has nightmares of being framed for murder to the point where she's not sure of her own innocence anymore.
I mean, it's true murder here is metaphorical, but that prediction's not far off either.
Citations: Taylor Swift Once Revealed Her Biggest Fear Of Being Secretly Recorded… (Perez Hilton)