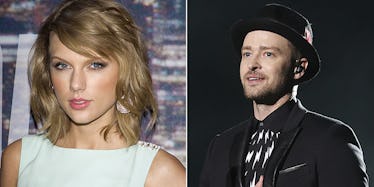 Yep, Justin Timberlake Is Officially Part Of Taylor Swift's Squad
REUTERS/Carlo Allegri/Youssef Boudlal
Move over, Ed Sheeran. It looks like Taylor Swift has another BFF in town.
The 1989 singer racked up several awards this past Sunday at the iHeart Radio Music Awards.
When she was up for Best Tour, her good friend Justin Timberlake presented her with the award.
That night, Justin AND Taylor posted adorable BFF Instagrams for each other. JT congratuated Taylor on her award, and Taylor thanked him for "absolutely everything."
First, let's check out Justin's.
His caption reads,
My good friend, Taylor... Congrats, dear!!! #iHeartAwards
HOW PRECIOUS. Can you say best friend goals?
Now, take a look at Taylor's.
Her caption reads,
Hero status, friend status, all time fav status. @justintimberlake thank you for absolutely everything.
They are so perfect, it hurts.
Welcome to Taylor's BFF squad, JT. You earned it.