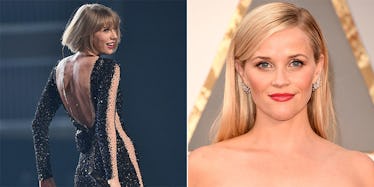 Taylor Swift Did An Epic Performance At Reese Witherspoon's Birthday Party
Getty Images
Damn, it looks like Reese Witherspoon knows how to throw one heck of a party.
In honor of Witherspoon's upcoming 40th birthday, the actress celebrated this weekend with a huge banger and some special musical performances.
Lots of celebrities were in attendance -- from Kate Hudson to Jennifer Aniston -- and Taylor Swift even gave Reese her own B-day concert. YEAH, how magical does that sound?!
In the video above, you can first see Reese taking the stage to sing "Sweet Home Alabama" with Keith Urban.
Then, Taylor takes over and sings "Shake It Off" for Reese, her friends and family.
You can even see Reese dancing in the first row in her sparkly dress. Break it down, girlfriend.
All I know is Reese's birthday bash basically beat every party I ever attended in my life.
Perhaps by the time I'm 40, Taylor Swift could come to my party, too.
...A GIRL CAN DREAM, OK?
Citations: Taylor Swift Reese Witherspoon Birthday (Cosmopolitan)