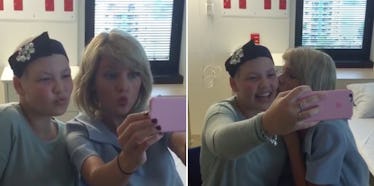 Taylor Swift Surprised Kids At A Hospital And It Was Seriously Adorable
Taylor Swift made some kids in Australia very happy when she showed up unexpectedly at Lady Cilento Children's Hospital on Tuesday.
The 26-year-old pop star recently made headlines for topping Forbes' list of highest paid celebrities at $170 million.
Now she's spending hours taking selfies and signing autographs for sick children, so, SEE YOU GUYS, JUST BECAUSE SHE HAS MONEY DOESN'T MEAN SHE'S BAD!
But PR trick or not, she really did bring genuine joy to these children's lives. You can't argue with happy children!
One teenage girl, in particular, got some of the best selfies with the pop star.
Bella Harry is a 13-year-old with bone cancer who also happens to run a pretty fire Instagram account.
I'm declaring her the official winner of the day for these bomb selfies with Tay. JK, this isn't a competition, that's horrible, but seriously this video is great.
Taylor is in the neighborhood while she stays with Tom Hiddleston, who is filming "Thor: Ragnarok" in Australia right now.
Who would have thought Hiddleswift would bring so much joy to the world?
Citations: 'Real life angel!': Taylor Swift pays a surprise visit to young fans at Lady Cilento Children's Hospital in Queensland to sing for them and sign autographs (Daily Mail)